METoA Ginza Celebrates First Anniversary and One-Millionth Visitor
The press conference took place at the second-floor exhibition space, METoA 2, where the 64-screen LCD multi-display METoA VISION is located. Mitsubishi Electric's Managing Executive Officer Minoru Hagiwara welcomed the large gathering of media in attendance.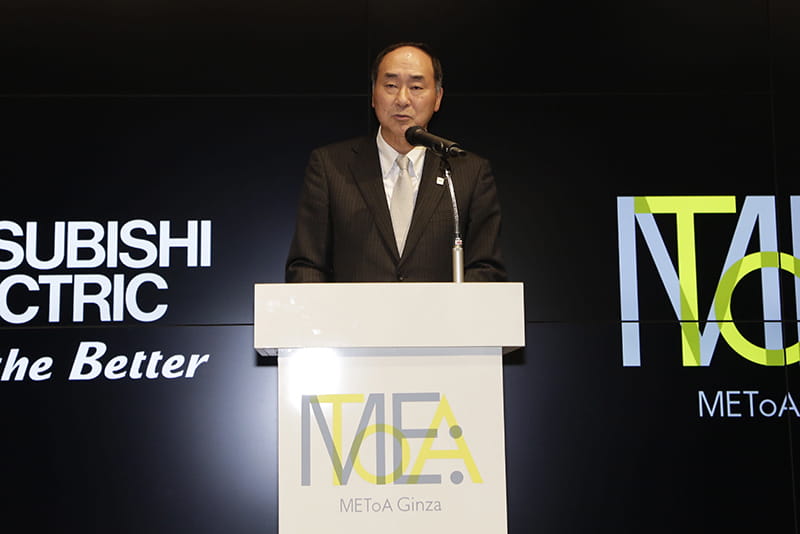 "Bringing the key words 'See,' 'Touch,' and 'Experience' to life, METoA Ginza opened its doors last year as a place of discovery and surprise created by fusing Mitsubishi Electric technologies and services with an array of cultural and artistic components. Since opening, we have held events that focus on the themes the company addresses in daily business and corporate activities; namely, video, factory automation and environmental activities. We have been pleased to see thousands of visitors enchanted by our unprecedented, original presentations. In March, we proudly welcomed our one-millionth visitor and reached the one-year anniversary since opening. In February 2021, Mitsubishi Electric will celebrate its 100th anniversary. Looking to that great milestone and the future beyond, METoA Ginza will continue to present Mitsubishi Electric's ongoing progress to the world."
Anne's Growing "Mitsubishi Electric Circle"
The next to take the stage, receiving great applause, was Anne, a popular Japanese actress who is also currently the face of many Mitsubishi Electric products. Covered in countless silvery sequins, her black dress reflected the stage lights with a sparkling, stunning effect. Anne told the crowd, "I chose this dress especially for METoA Ginza today to match the sparkling excitement here, showing what can be recycled and reborn as something new." Taking a shimmering turn, she returned to her message of celebration.
"I would like to offer my heartfelt congratulations to METoA Ginza on its first anniversary and one-millionth visitor. I have had the pleasure of appearing in Mitsubishi Electric commercials and at events so often that I feel as if I am one of the family. I am so very pleased to join you here at this celebration and look forward to sharing my excitement about Mitsubishi Electric with more and more people."It seems that Anne's "Mitsubishi Electric circle" is, in fact, growing bigger by the day. "So many of my friends and acquaintances make a point of telling me, 'I bought Mitsubishi Electric today,'" she said laughingly.
What does Anne think of METoA Ginza?
"I had a vague image that it was some kind of showroom. But being here in person today, I see it's much more than that. I get a real sense of how things are recycled. I'm impressed at how the presentations make it clear at a glance or a touch. The space provides a hands-on experience that weaves together many things—not just the latest fun features, but also the traditional and the uniquely Japanese. It seems like all of the events held here are exciting, and I think they are great educational experiences for kids and enjoyable for parents, too. This space is also an excellent spot for a date or sightseeing. There are many instances of fun ingenuity, and I think it'll be even more popular in the future."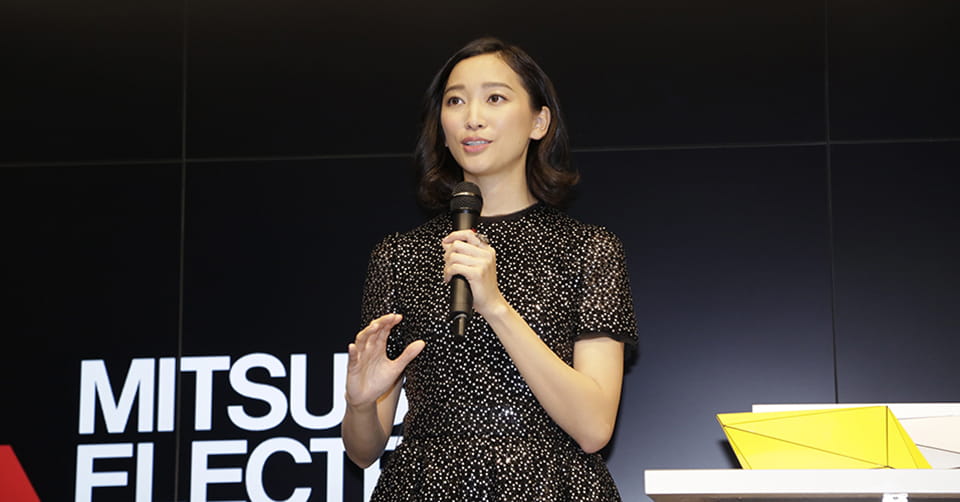 Looking Back over the First Year of METoA Ginza
The event also featured video recaps of the events held at METoA Ginza, which were shown on the large METoA VISION screen for Anne and other attendees.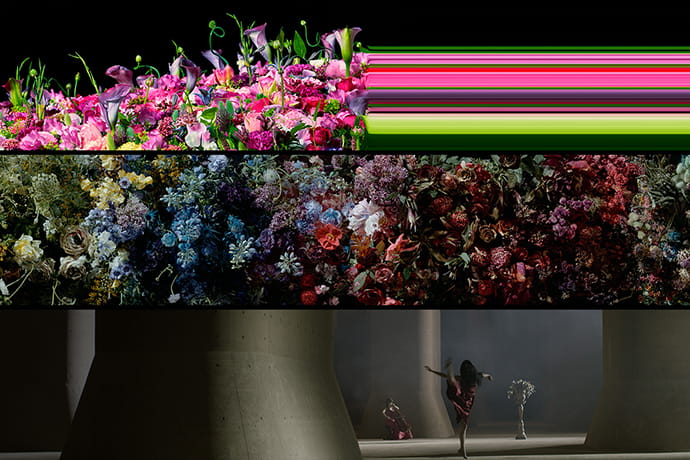 Flowers for Ginzaー A Beautiful Encounter with Film and Flowers.
Exhibition Dates: March 31,2016(Thu.)– July 5,2016(Tue.)
The opening event held in spring last year was "Flowers for Ginza—a Beautiful Encounter with Film and Flowers." For this event, three teams pairing famous flower artists and video creators collaborated on video pieces and vivid floral objets d'art to produce a banquet of exquisite floral art dedicated to the ladies of Ginza.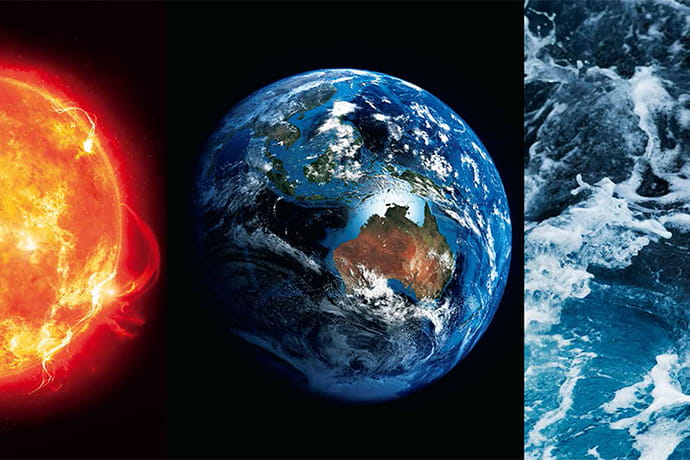 Space in Ginza
Exhibition Dates: July 9, 2016 (Sat.) to Sep 22, 2016 (Thu.)
In the summer, METoA Ginza collaborated with the Japan Aerospace Exploration Agency (JAXA) to present "Space in Ginza". The event featured space-themed videos and installation pieces made by creative figures to evoke the vast grandeur of the universe.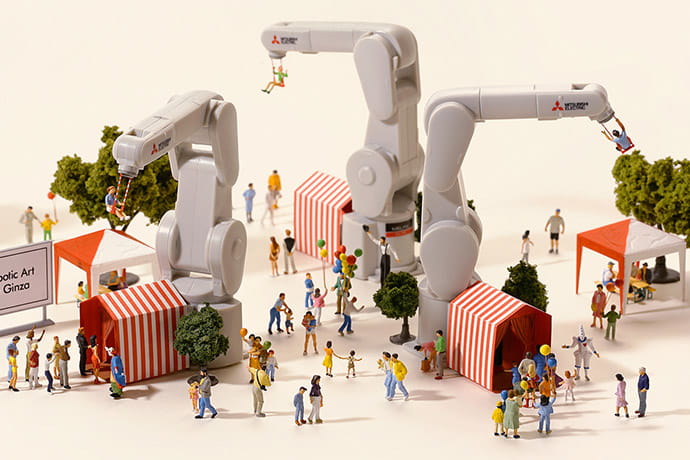 Robotic Art in Ginzaー Artistic World Created by Industrial Robots
Exhibition Dates: Sep 29, 2016 (Thu.) to February 15, 2017(Wed.)
The next event, "Robotic Art in Ginza: Artistic World Created by Industrial Robots," was held through February. Collaborative artistic pieces that put the spotlight on industrial robots gave visitors an opportunity to interact with a side of the manufacturing industry that most people know nothing about.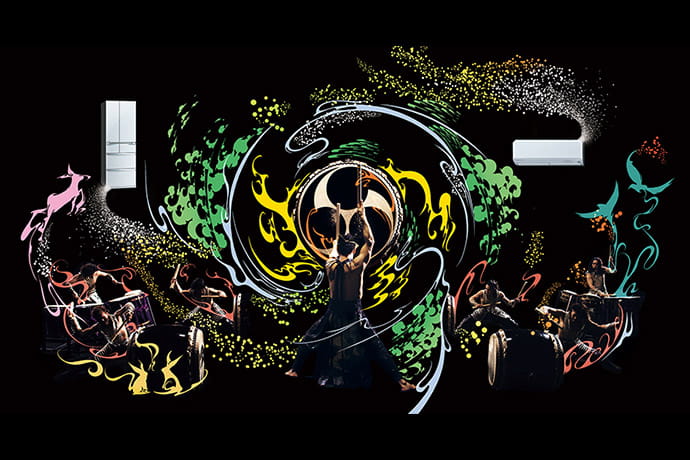 Re-Birth in Ginzaー Encounter a Bewildering World Created Using Recycled Home Appliances
Exhibition Dates: February 22, 2017 (wed.) to June 14,2017 (wed.)
METoA Ginza is currently hosting "Re-Birth in Ginza—Encounter a Bewildering World Created Using Recycled Home Appliances." As part of the effort to create a recycling-based society, Mitsubishi Electric operates two plants dedicated to the recycling of home appliances that are no longer usable. Anne commented, "In some ways, we sort garbage into many more categories now than when I was a child. But in other ways, with the advance of processing plant technologies, in some cases there's less need for sorting garbage than before. So I try to keep up on all this and be careful not to be wasteful at home. Being involved with Mitsubishi Electric, I have become much more aware of my home appliances. I just found out that these appliances have recycling symbols, too. I plan to check my own as soon as I get home." She said that since her child was born she buys more and throws more away, and she worries about this. She seemed relieved to learn more about this system of recycling that helps reduce waste. "I worry about what we will leave for our children. This is something I plan to think about more in the future."
Special Offer—Exclusive METoA Ginza Design ORISHIKI Clutch Bag
On the day of the event, we also introduced the ORISHIKI clutch bag featuring an exclusive METoA Ginza design. The futuristic design adorning the clutch bag was created specially to mark the first anniversary of METoA Ginza. The ORISHIKI consists of a flat sheet made up of triangular panels that can be folded like origami to create a unique, three-dimensional bag that embraces items; much like the furoshiki, a square cloth traditionally used in Japan to wrap and carry items. Naoki Kawamoto, the industrial designer who designed the ORISHIKI, and who also created the Reincarnation pieces on the 1st and 3rd floors, made an appearance and shared some thoughts.
"I'm into craftsmanship because I love that moment when I'm able to take something that can be broken down no further and make it into something else. Recycling is exactly that dismantling and crushing home appliances to reduce them to their most basic raw materials and then creating something new from that. I feel this concept has something in common with the ORISHIKI, which we constructed from rows and rows of that most basic shape, the triangle," stated Kawamoto.
Holding the ORISHIKI, Anne was intrigued by its extraordinary structure and the way the bag fit her hand. "I couldn't tell just by looking where the opening was. Thinking about it, there's something very unique and playful about a bag that only the person who owns it knows how to open. This would go well when wearing kimono, too. It's so light, but sturdy, and fits so well!"
The exclusive METoA Ginza design is available in two versions, yellow and silver, the METoA Ginza concept colors. It is on sale only for the duration of this event, which ends on Wednesday, June 14 (¥350,000 excluding tax). We invite you to visit the gift shop on the 3rd floor to see it on display and place an order.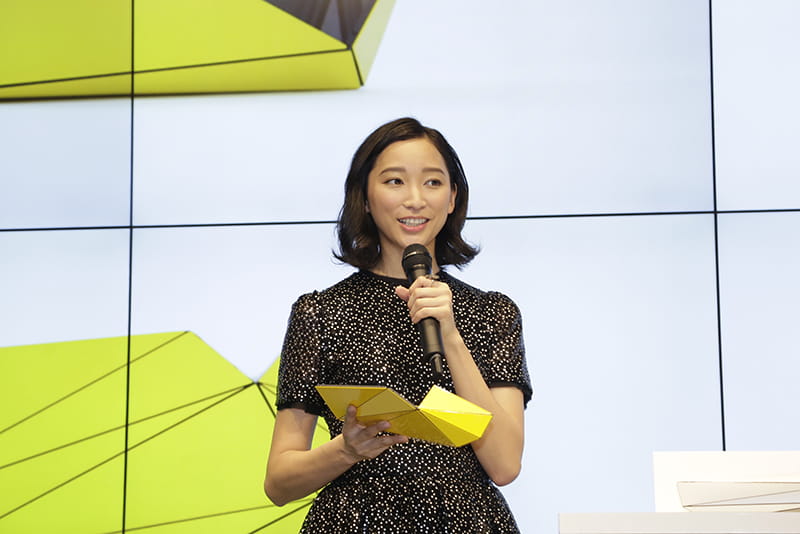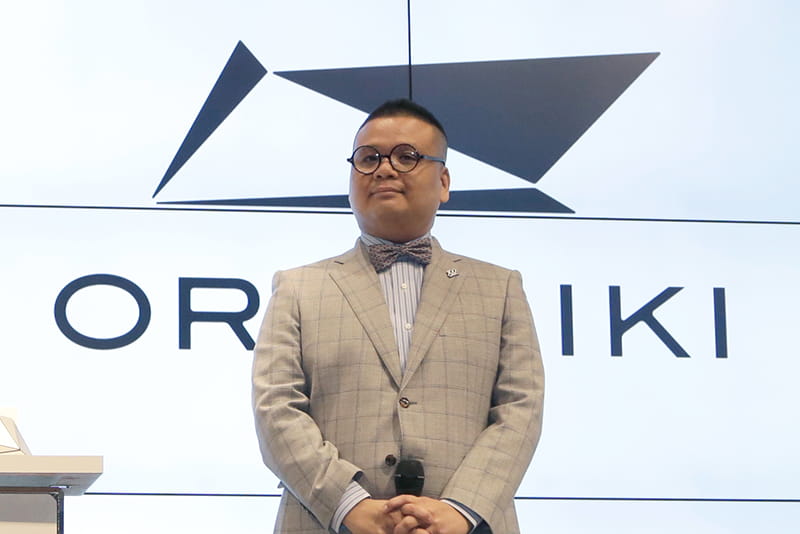 Anne's Message—A Step toward a Positive Future
Nearing the end of the press conference, following the celebration of METoA Ginza's one-year anniversary and the unveiling of the ORISHIKI clutch bag exclusive design, Anne addressed the audience with a final message.
"Thank you so much for inviting me to participate today. Seeing METoA Ginza firsthand was not only a lot of fun, but I also come away feeling a bit more reassured about the future. I now know more about how home appliances are made and how they are recycled. I've learned that if I buy new appliances in the future, the old appliances will be reused and recycled. This, for me, holds promise as a step toward a wonderful future. I think people's awareness will change as more and more people across Japan and around the world, and people of all ages, discover this. I hope that METoA Ginza continues to grow and deliver this message to more people, and I look forward to working with all of you to build a fantastic future."
We extend our heartfelt appreciation to Anne, Naoki Kawamoto, and all in attendance who helped make this event so special.