1F | METoA 1
Industrial robots perform a folding fan dance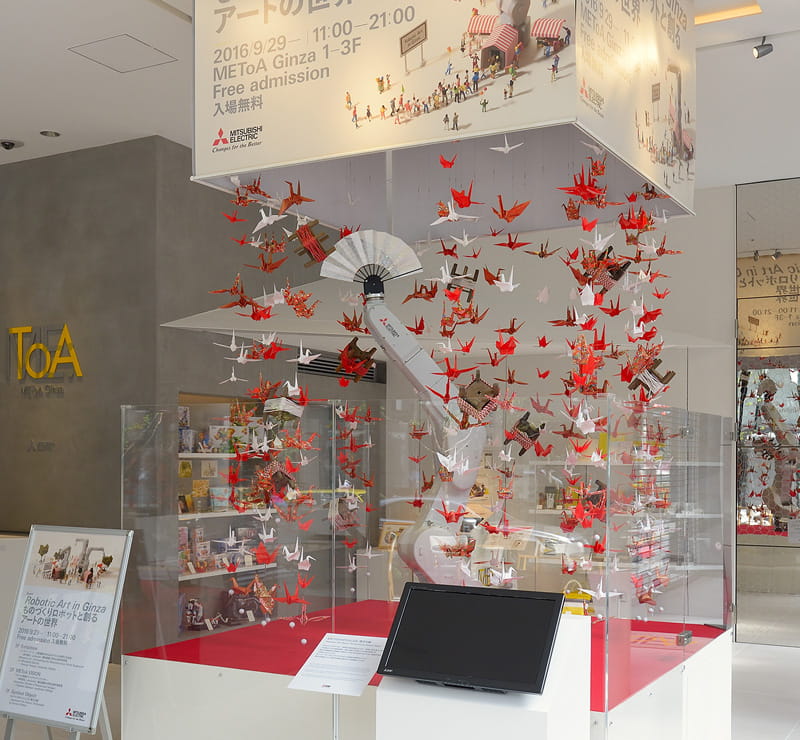 A kinetic exhibition of industrial robots as a symbolic feature of the event.
Industrial robots are characterized by the accuracy and speed with which they perform complex, continuous activities, such as assembling precision parts and transporting objects at high speed, in place of human beings. This symbolic exhibition demonstrates the sophisticated movements of such robots through a folding fan dance. Watch closely as industrial robots donning Japanese attire precisely and delicately twirl fans through a flutter of origami cranes. A video of how the performance was programmed will also be shown.
METoA Cafe & KitchenYour own original dessert, made by assembling an assortment of delicious ingredients
2F | METoA 2
METoA VISIONBeauty in Motion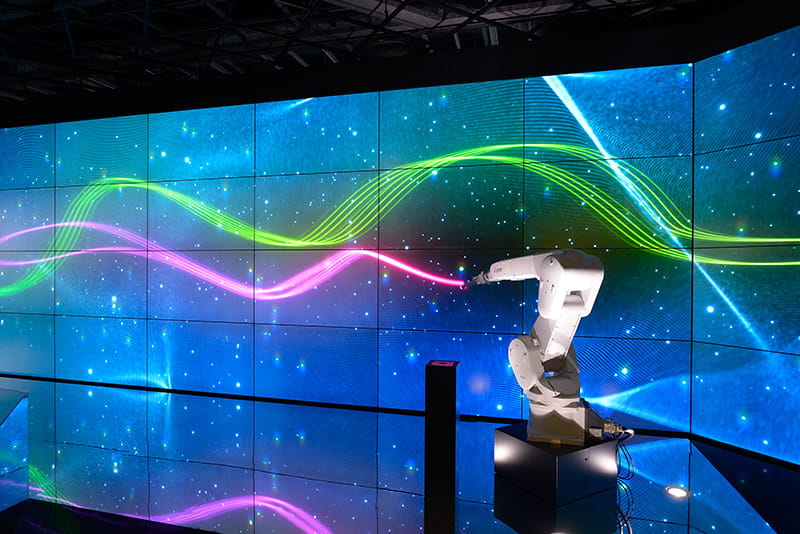 Mitsubishi Electric's 64-screen LCD multi-display unit METoA VISION stages a world of beautiful imagery woven by robots and art. Four scenes representing "beauty that dwells in movement" will unfold in front of you on an astounding scale. In SYNCHRONEITY, streams of light are produced as robots wave a baton. In PLAY WITH BUTTERFULY, a sparkling flight of optical butterflies flitter across METoA VISION and invite you to a world of mesmerizing beauty. In DYNAMICS, particles of light will flutter about as people's movements stir the air, and in RESONANCE, images of sounds appear as visitors operate the robots to produce sounds. The synchronization of robots and imagery creates a magical art space that will captivate your imagination.
2F | METoA 2 METoA VISION Beauty in Motion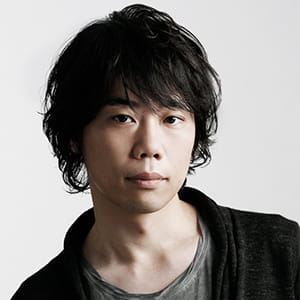 Takahiro Matsuo
Representative of LUCENT. Creates light installations that fuse image, lighting, technology, interactive elements, and aesthetic beauty. Seamlessly brings together art, design, and technology via diverse forms of expression and applied technologies, including originally-created images, lighting, and systems created through programming.
archiroid + 000lab (Shohei Matsukawa lab)
000lab (Shohei Matsukawa lab) searches for the (im)possibilities in architecture and city development by representing everything concerning those subjects through programming. In March 2016, the students that graduated from 000lab set up archiroid (architecture + android). Targeting the architectural design field, archiroid develops programs and pursues design utilizing "algorithmic design," a method of design involving computer.
3F | METoA 3
<METoA Giraffe Zone>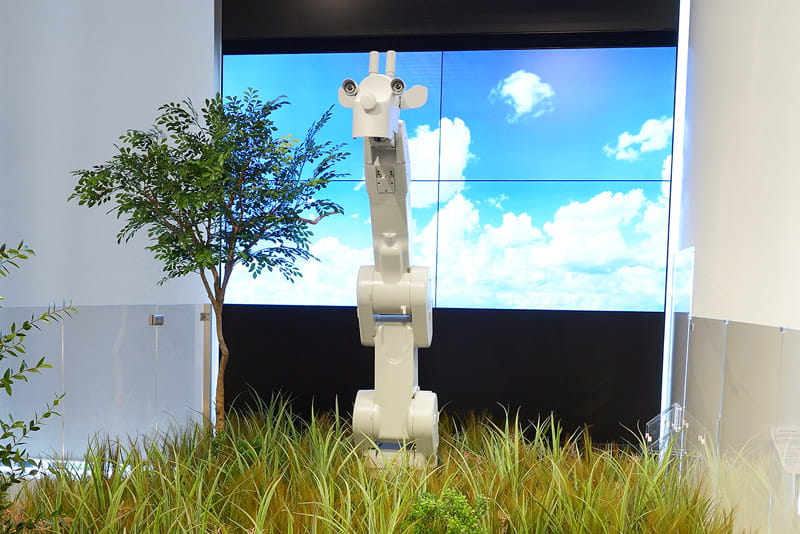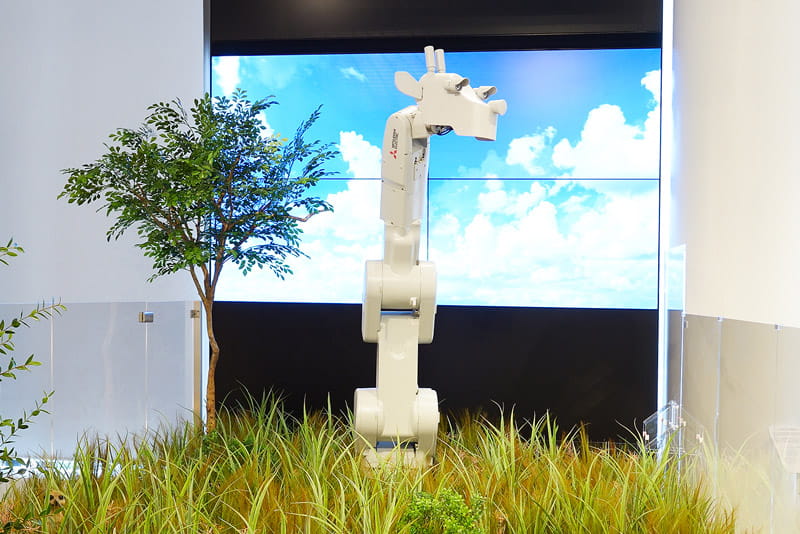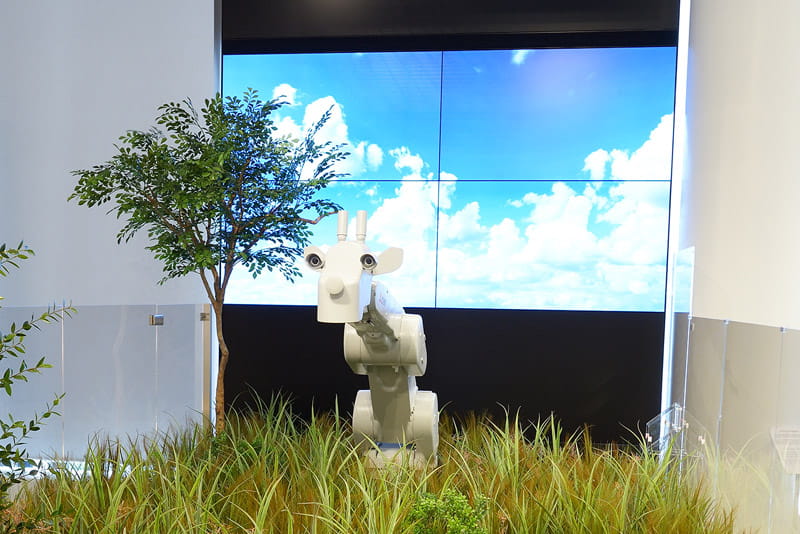 A manufacturing robot in the image of a giraffe stands in a safari-like setting.
The three-meter-high, six-jointed robot giraffe moves fluidly, and welcomes visitors in a charming, non-robotic manner at the hands of its artist.
You can also experience a simulated feeding of the giraffe.
<Miniature Zone>

1. Hurdles made from printed circuit boards / 2. Hot springs bath made from a monitor / 3. Swimming pool diving boards made from circuit breakers / 4. Snowy mountain scene made from a fan

5. Ice skating on a drive motor / 6. Steam engine made from servo motors / 7. Amusement park made from robot arms / 8. A museum displaying processed products
A world of miniature art is presented featuring Mitsubishi Electric's industrial robots and factory automation products that are commonly used in various plants. In artist Tatsuya Tanaka's new dioramas themed on factory automation products, a breaker serves as a diving board, a servo motor as a steam engine, and robot arms as feature rides in an amusement park. Robots and factory automation products are also centerpieces in the artistic display, "Robot City." The collaboration of industrial robots and miniature art opens a new imaginary world that only exists in the here and now, and can be enjoyed by everyone, beyond any difference in language or age.
3F | METoA 3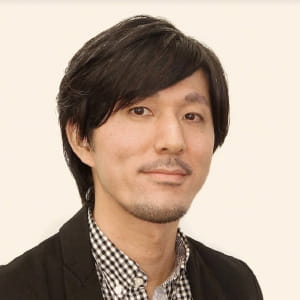 Tatsuya Tanaka
Born in Kumamoto in 1981. Currently an art director/miniature photographer based in Kagoshima. A website he has been updating daily since April 2011, "MINIATURE CALENDAR," became popular among Internet users, being widely talked about online, as well as in other media including magazines and TV shows. Photo collections, "MINIATURE LIFE," and "MINIATURE LIFE 2," have been published and are available in the commercial market.