1F | METoA 1
BLUE ORBITS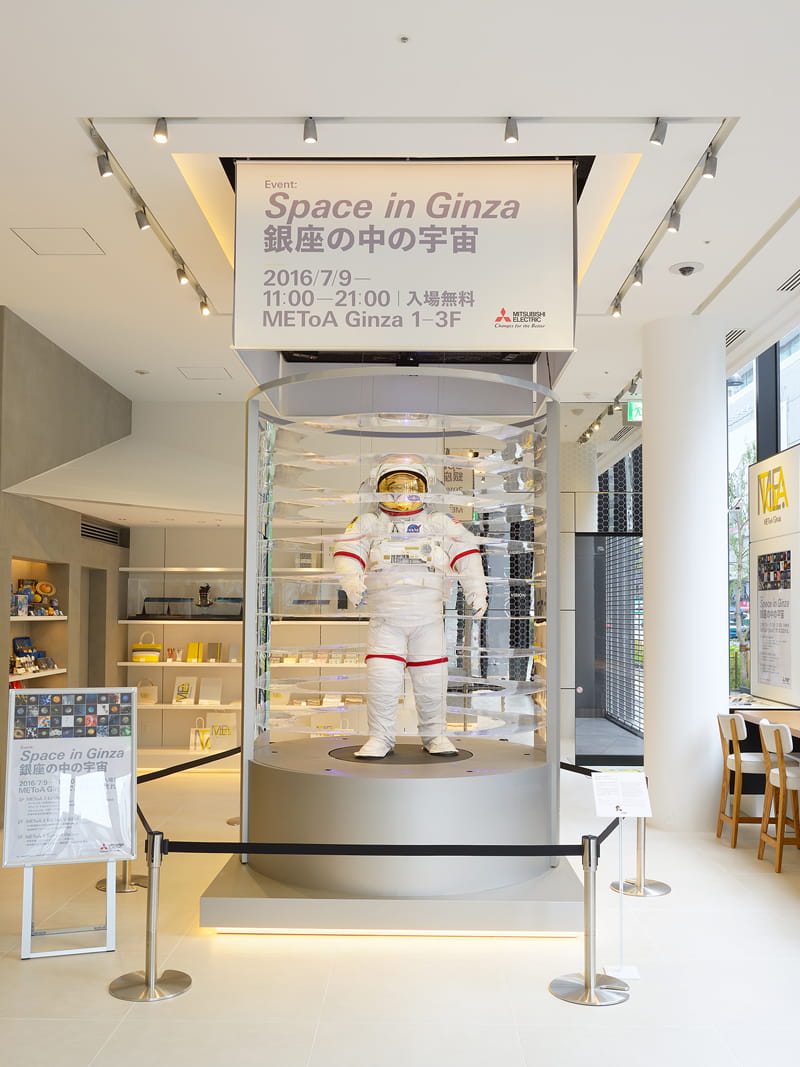 Light Art: Spacesuit and Laser Light
Presenting a lighting installation that takes its inspiration from the orbits of the planets in the solar system and the shining of countless stars. A spacesuit and technology come together to create a sophisticated objet d'art. The laser light pouring down around the spacesuit passes in layers through a transparent disc treated with a special film, creating a dynamic mix of points of light and trajectories of light in space. Countless blue lines and dots are reflected on the space suit, and change moment to moment.
1F | METoA 1 BLUE ORBITS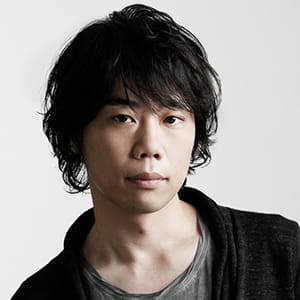 Takahiro Matsuo
Representative of LUCENT. Creates light installations that fuse image, lighting, technology, interactive elements, and aesthetic beauty. Seamlessly brings together art, design, and technology via diverse forms of expression and applied technologies, including originally-created images, lighting, and systems created through programming.
METoA Cafe & KitchenAn Exquisite Taste of Space
2F | METoA 2
METoA VISIONPIECE OF UNIVERSE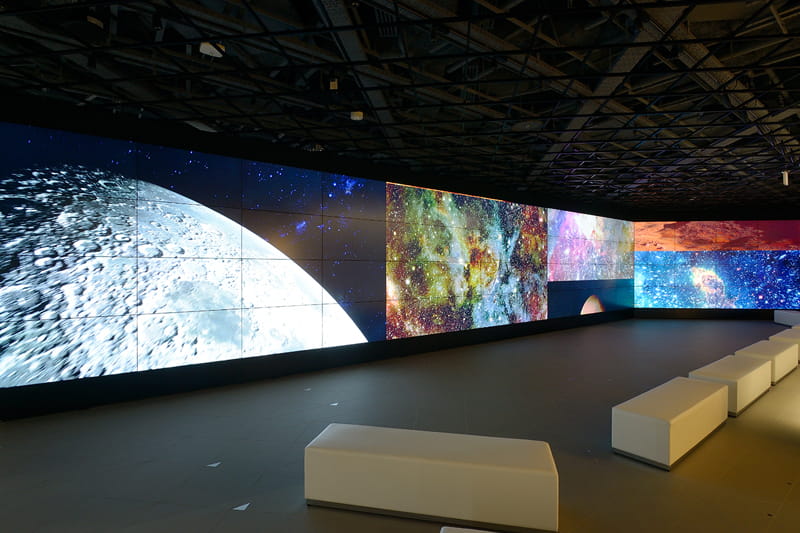 Collaboration between METoA Vision and image creators
Mitsubishi Electric's METoA Vision provides a stage for images via a 64-panel LCD multi-display unit. The system's overwhelming scale offers visitors an experience as if they were suspended in space themselves. Presented in collaboration with cutting-edge image makers, this event offers the opportunity to experience the beauty of space as never before.
2F | METoA 2 METoA VISION PIECE OF UNIVERSE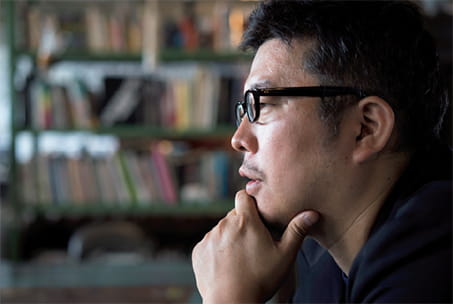 kaibutsu inc.
Established in 2006, kaibutsu is a Tokyo-based design studio. Not confined to a single field, kaibutsu encompasses graphics, web design, image creation, and event design.
Adjacent to METoA Vision, we are also planning an exhibition of a half-size scale model of the DS2000, the standard satellite platform that is a central element in Mitsubishi Electric's space business, in addition to showing videos introducing our space business.
3F | METoA 3
"I am here"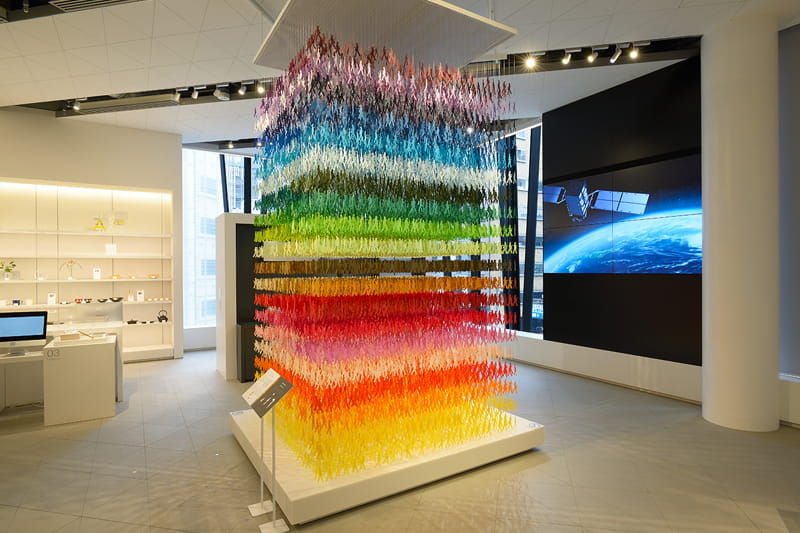 This is an installation that uses the centimeter-level measurement accuracy of the Quasi-Zenith Satellite System as a motif
From approximately 40,000km in space (32,000−40,000km), the Quasi-Zenith Satellite System is able to measure your position (on x, y, and z axes) to an accuracy of centimeters. Presenting the accuracy of the Quasi-Zenith Satellite System in a beautiful visual form, this interactive installation is both familiar and thrilling. Within this work, modeled on the crowded streets of Ginza, something wanders.
HYPERSPACE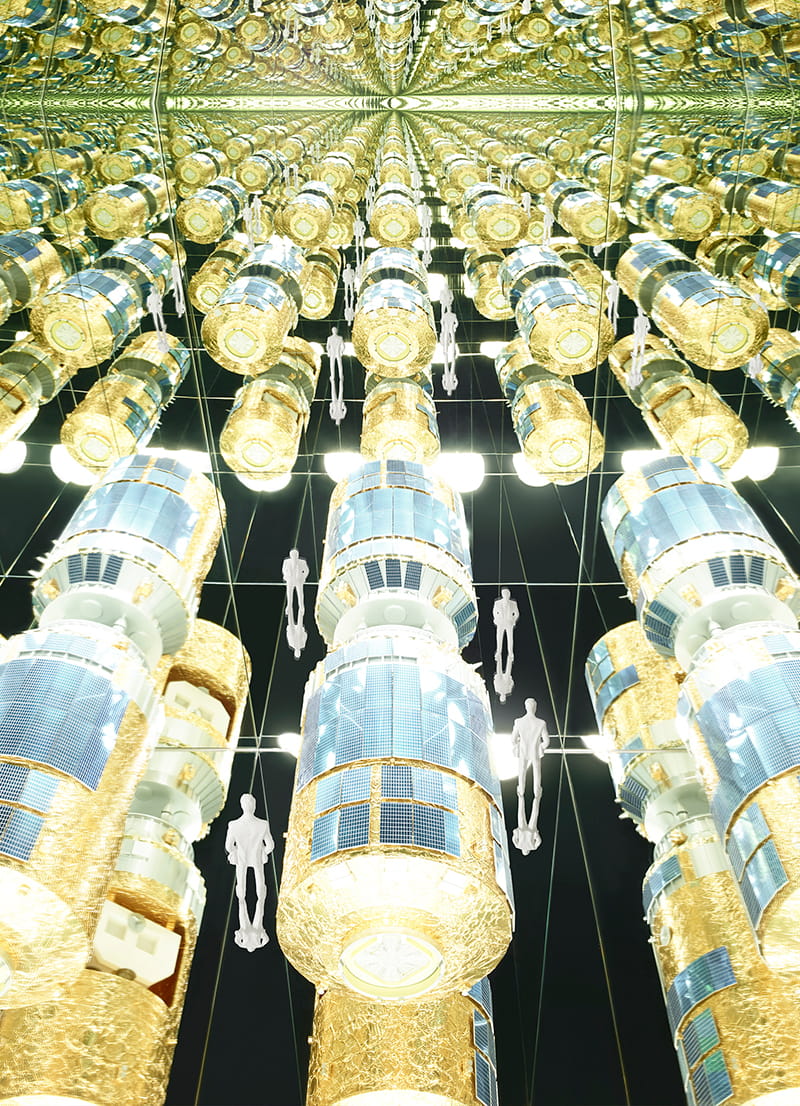 Spacecraft and artist: An unusual collaboration
Placing a 1/24th-scale model of the International Space Station cargo supply vessel Kounotori inside a box of mirrors, this work gives the craft an infinite vapor trail, and creates a fantastic world of movement and depth. Through visual transformations, the miniature Kounotori appears to speed through a broad expanse of space.
3F | METoA 3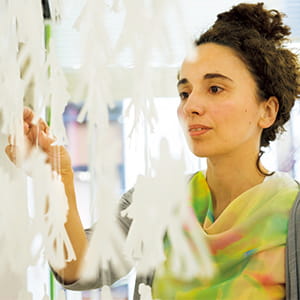 "I am here"
Emmanuelle Moureaux
Architect / Designer. Born in France. Living in Tokyo since 1996. Established emmanuelle moureaux architecture + design. Her works extend to a number of projects, including architectural design making bold use of color for Sugamo Shinkin Bank, space design for ABC Cooking Studio, and art installation for UNIQLO and ISSEY MIYAKE. Associate professor at Tohoku University of Art and Design.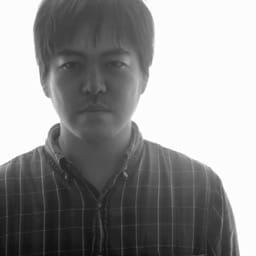 HYPERSPACE
STEVE NAKAMURA
Art director. Born in 1973 in Los Angeles. Graduated from London's Central Saint Martins College of Art & Design. Art director for Laforet Harajuku's annual advertising since 2015. Has supervised the art direction of Kyary Pamyu Pamyu's CD covers since her debut. Nakamura's works have been featured in magazines including The New York Times Style Magazine, IDEA, Wallpaper*, and NOWNESS.
In addition to these artworks, in cooperation with the Japan Aerospace Exploration Agency (JAXA) and the National Aeronautics and Space Administration (NASA), we are also hosting an exhibition that will enable visitors to learn about how astronauts live in space and what the earth looks like from the International Space Station (ISS). Please visit to experience how astronauts eat and sleep in space, and to see the beauty of the earth from space.