Special Talk Sessions 1
Nicolai Bergmann × Takuya Hosogane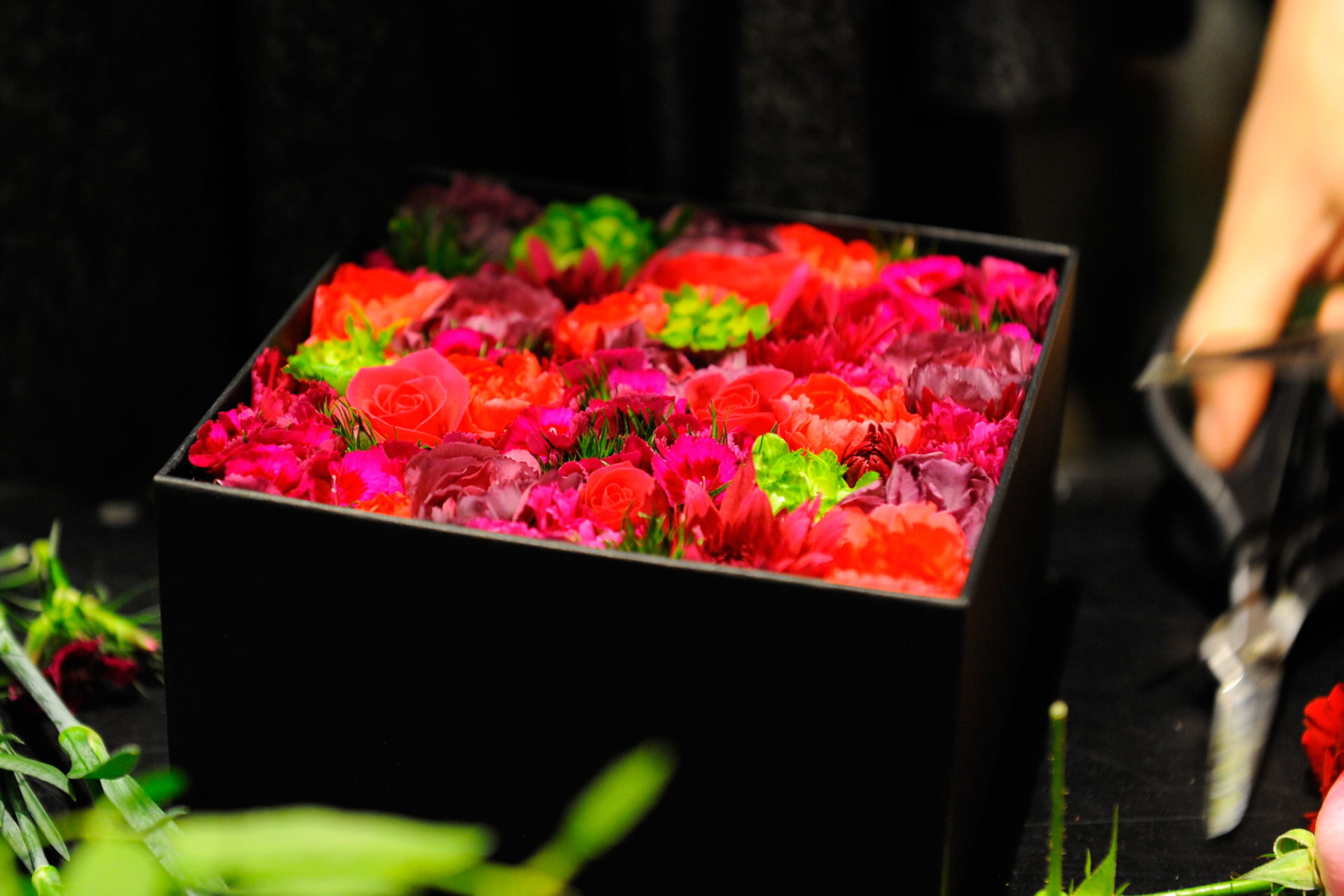 Plugging into Human Instincts Through "Surprise + Pleasure"
Nicolai Bergmann | NB : I have worked as a floral artist in Japan for 18 years, always with an awareness of Japan and the West as my major theme. As part of this approach, I value particularly the idea of flowers facilitating dialog. You are also involved in artistic expression using video images as your tool. What is the approach to your work based on?
Takuya Hosogane | TH : My special area is a form of abstract expression called motion graphics based on geometrical figures, but I am not tied to any particular method. What is fundamental to my approach is to be creative in a way that is faithful to human physiological drives and pleasures. I value appealing to human instinct.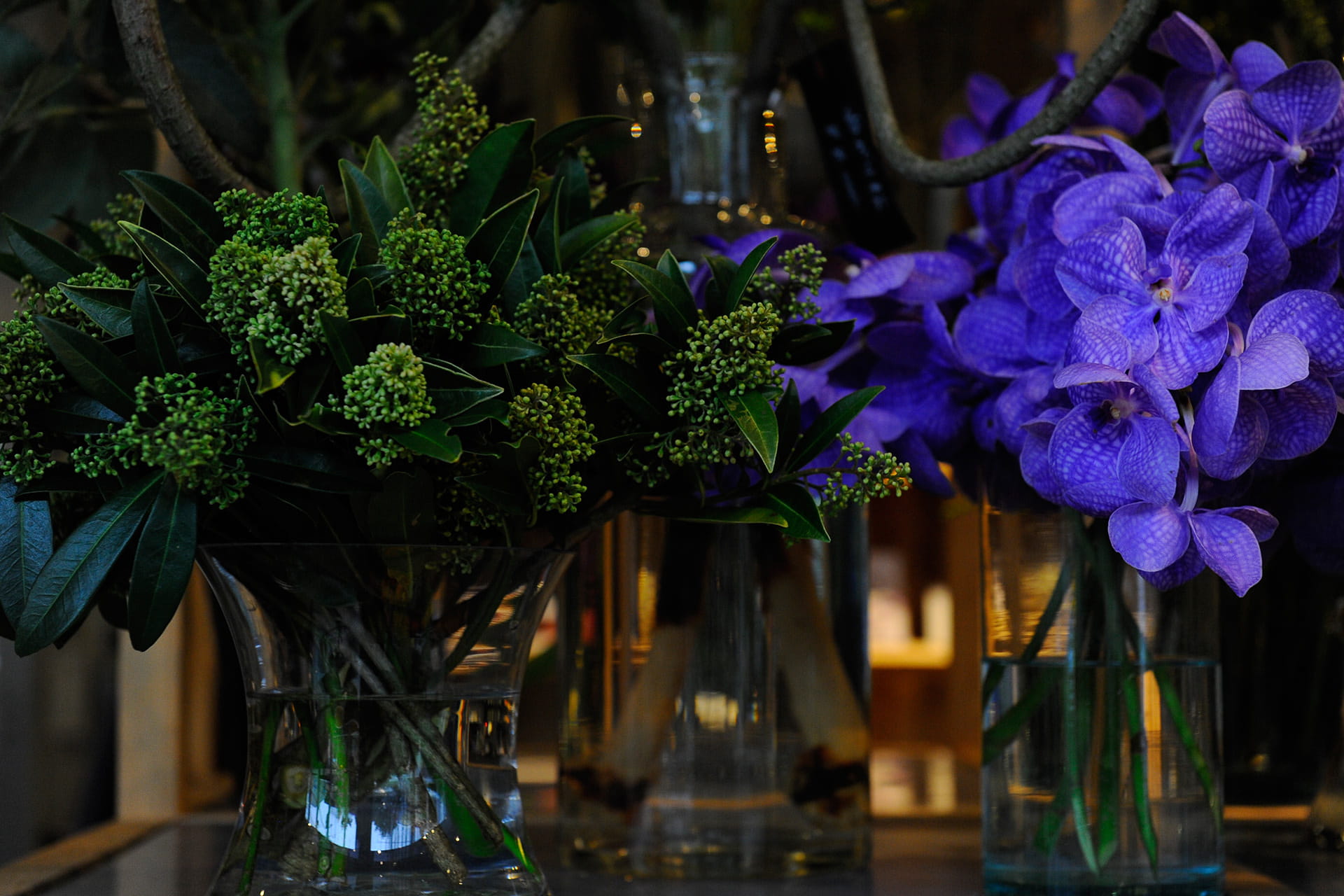 — In this collaboration, Mr. Hosogane uses moving images to present Mr.Bergmann's flowers. How do you both feel about the project?
NB : I find the idea of something new emerging from the flowers and the video images very creative. As a floral artist, I derive great pleasure from the ability to create something using the natural and universal material of flowers.
TH : For me, this is the first time to film a designed organic subject like flower arrangements. I think it is going to be a very challenging experience working out how to present flowers, which are a non-moving subject, in a moving image. Have you ever arranged flowers for video filming before?
NB : No, this is my first venture using flowers as a graphic element, so it's a completely new departure for me. When I am arranging flowers, I am conscious of ensuring that they can be enjoyed from every angle in the full 360 degrees, so I am looking forward to seeing how that can be reproduced in film.
TH : My idea is to rotate the flowers as I film them to bring out a sense of three-dimensionality. Apart from that, the brilliant light radiating from a giant screen consisting of 64 panels will by itself have an irresistible impact that tunes into human physiological functions. I am very eager to see how viewers react.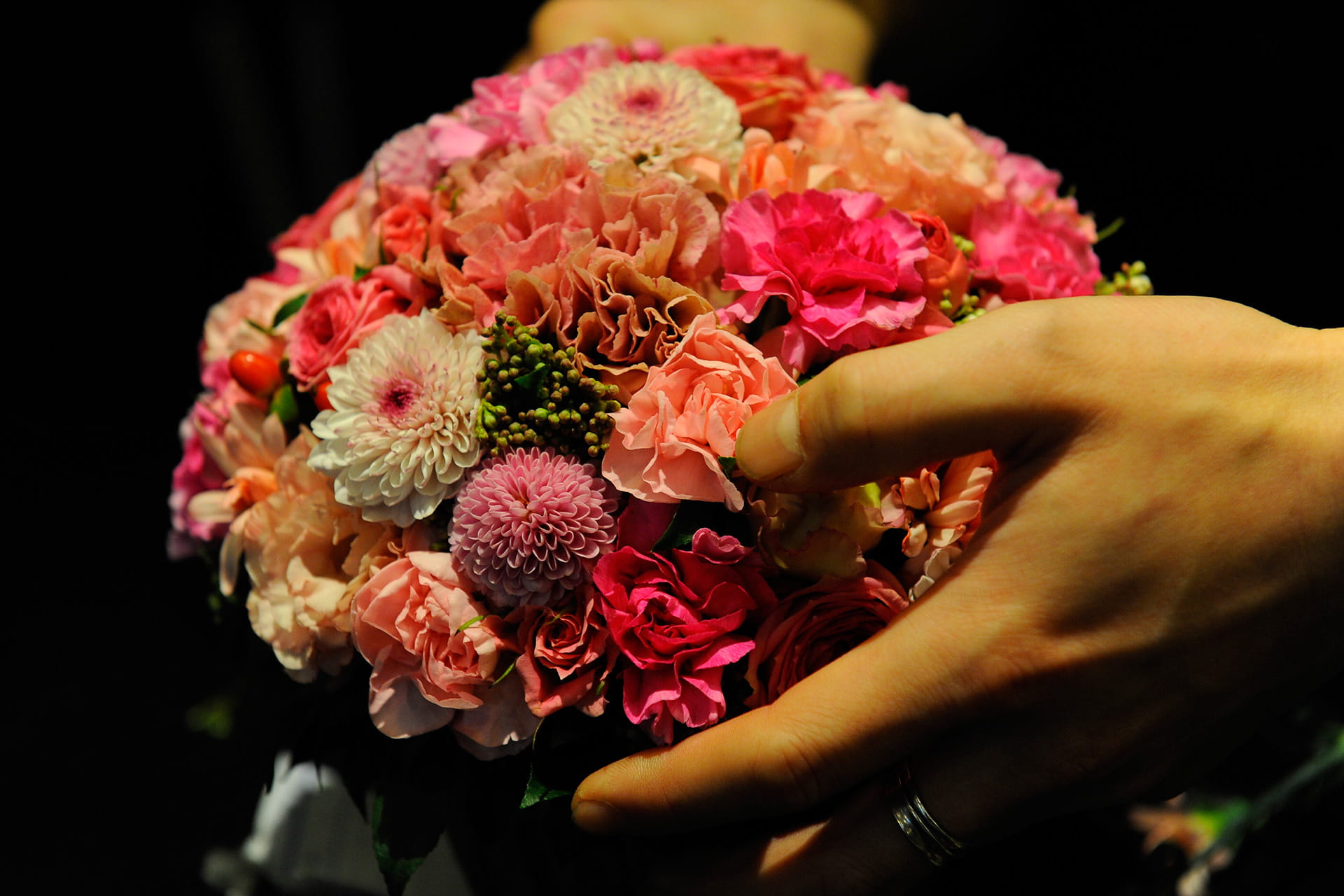 Breaking Free From Stereotypes with New Forms of Expression
— Mr. Bergmann, is there anything that you are particular about when selecting flowers?
NB : I would like to try using the intensity of shades of deep purple as a base with a chic impression, then fill in the gaps with fresher colors to create a spring-like touch without being too pretty-pretty.
TH : I see. Recently, there has been a lot of talk about the trend of merchandising products in pink based on the unthinking assumption that women must like pink, which is now called the 'uncool-pink phenomenon'. Because forcing pink on women just because of their gender is actually discriminatory, so this time I also want to resist the idea that 'flowers equal cute'.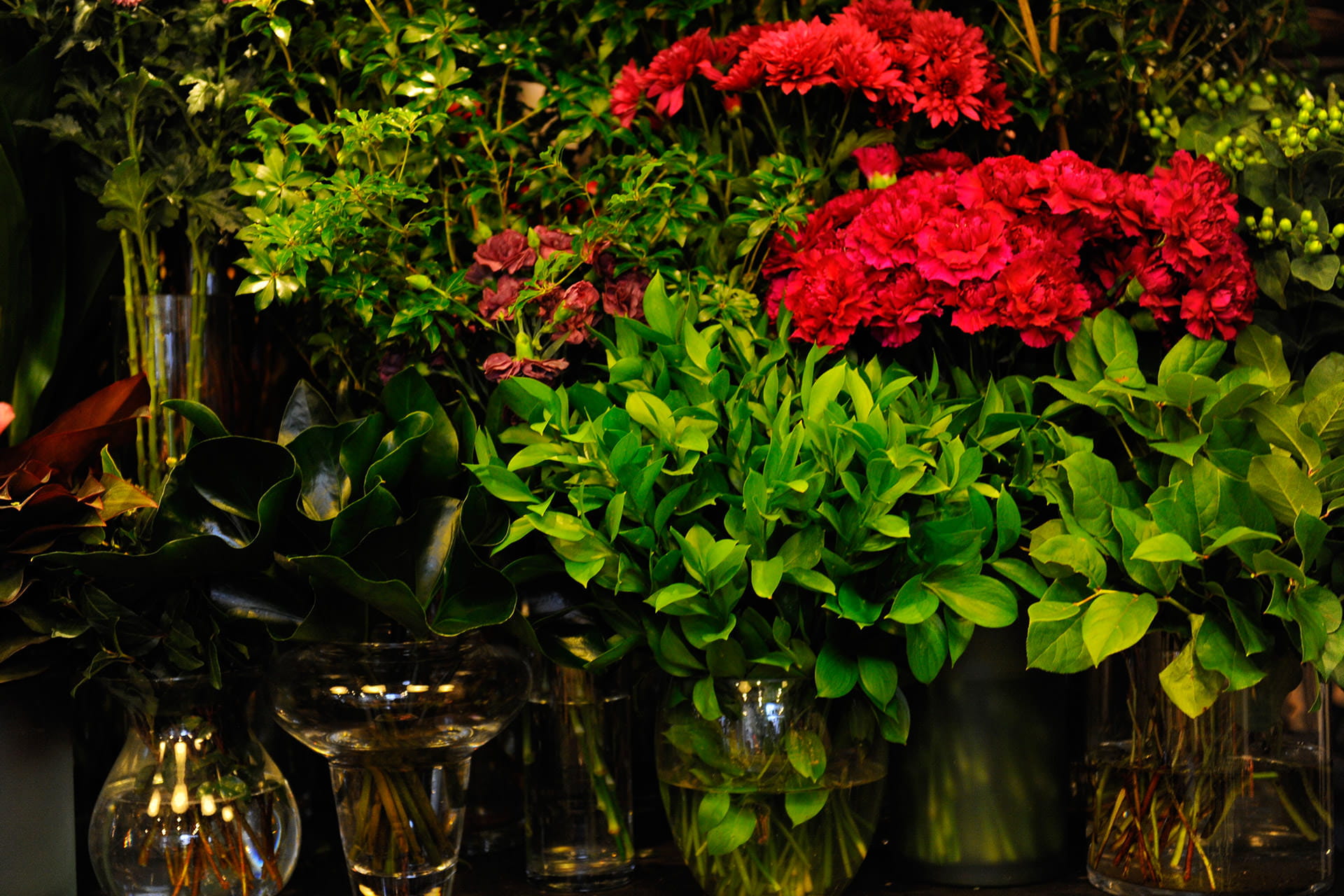 NB : I feel the same. We should think more seriously about what kind of impression colors leave on people. When I first used black on flower boxes, lots of people said black was the color of funerals so I shouldn't use it, but instead of taking that attitude, I would like people to accept the idea of waiting to see the finished article and then discovering how they react to it.
TH : In that sense, I suppose Ginza may be a very attractive place for creatives, as a stage where you can present adventurous pieces of work that are not bound by fixed ideas.
NB : Yes, the most appealing part of the project is that people will be able to appreciate our work in an amazing venue that is being created in Ginza. I want as many people as possible to experience this new creative form that transcends the limits of flower arrangement.
TH : I believe that things that are immense and dazzling are undeniably powerful. I want people to physically experience for themselves the visual and auditory impact our works give through the medium of such a huge screen.
[Date and Place] December 2015 in the vicinity of Tokyo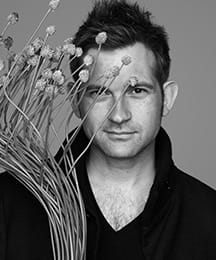 Nicolai Bergmann
Flower Artist
Originally from Denmark, Mr. Bergmann, now based in Tokyo, explores new dimensions in floral design while introducing an innovative world-view, a fusion between Scandinavian and Japanese sensitivity.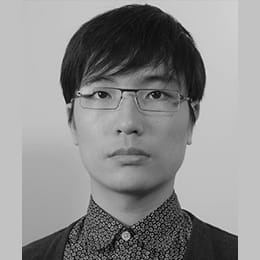 Takuya Hosogane
Video Director
Active across a wide range of genre, Mr. Hosogane uses multiple techniques including animation and live footage to create pieces mostly in the field of motion graphics. His unique sensitivity has attracted great interest.
Special Talk Sessions 2
THE LITTLE SHOP OF FLOWERS × TAKCOM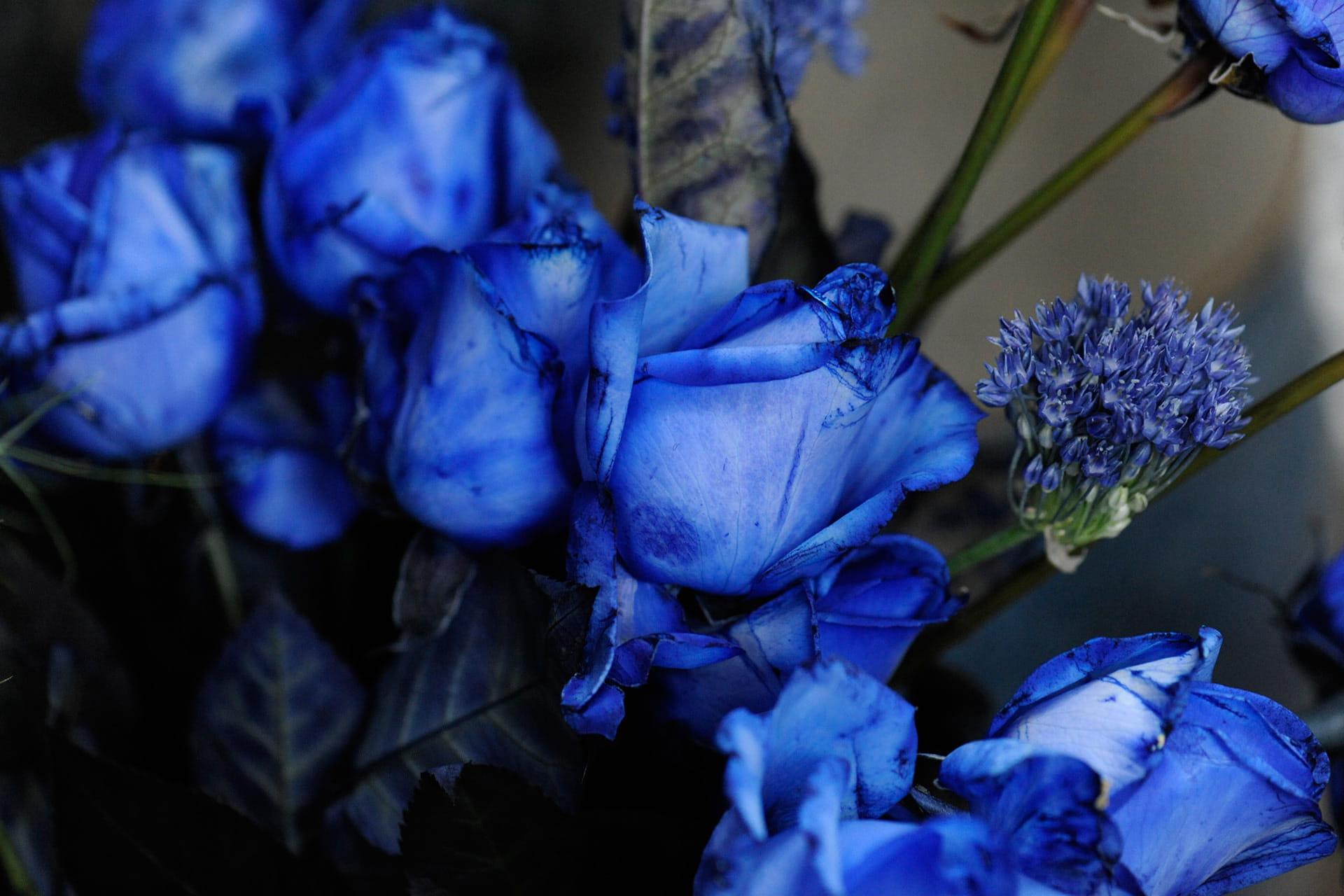 Dynamism of Space and Flowers, and Mingled Anticipation
Yukari Iki/THE LITTLE SHOP OF FLOWERS | YI : Before I moved THE LITTLE SHOP OF FLOWERS to this detached hut in Jingumae (Shibuya), my life had consisted of running a flower shop on Friday, Saturday and Sunday, while working as a PR person for the fashion industry. Perhaps because of such experience, I like to make flower arrangements that highlight clients' unique spaces. As I studied by myself and, good or bad, began without knowledge of basic rules for handling flowers, I have approached the flower business as if incorporating one product as an element into a given interior space.
Takafumi Tsuchiya/TAKCOM | TT : My stance is to try any genre of images commissioned by clients ranging from advertising, and live events to gallery presentations. However, this is my first experience to work with flowers as the main player. As I feel a certain underlying strength or philosophical message in your work, my key focus will be to bring out such elements.
YI : Yes, as a matter of fact, people often describe the way I dress or my choice of color as mannish rather than pretty. In any case, I consistently make flower arrangements based on the purpose and space presented by my client's request, and have therefore no intention to specifically reflect myself in each of my assignments.
TT : I see. When producing videos like those for this exhibition that require originality, it is more challenging when the subjects are the work of an artist whose identity is downplayed.
YI : This is my first collaboration with a video artist, and I have absolutely no idea how my work will be engineered through your high-tech imaging. I am looking forward to seeing how my work, in other words, what I love will look in the medium of video.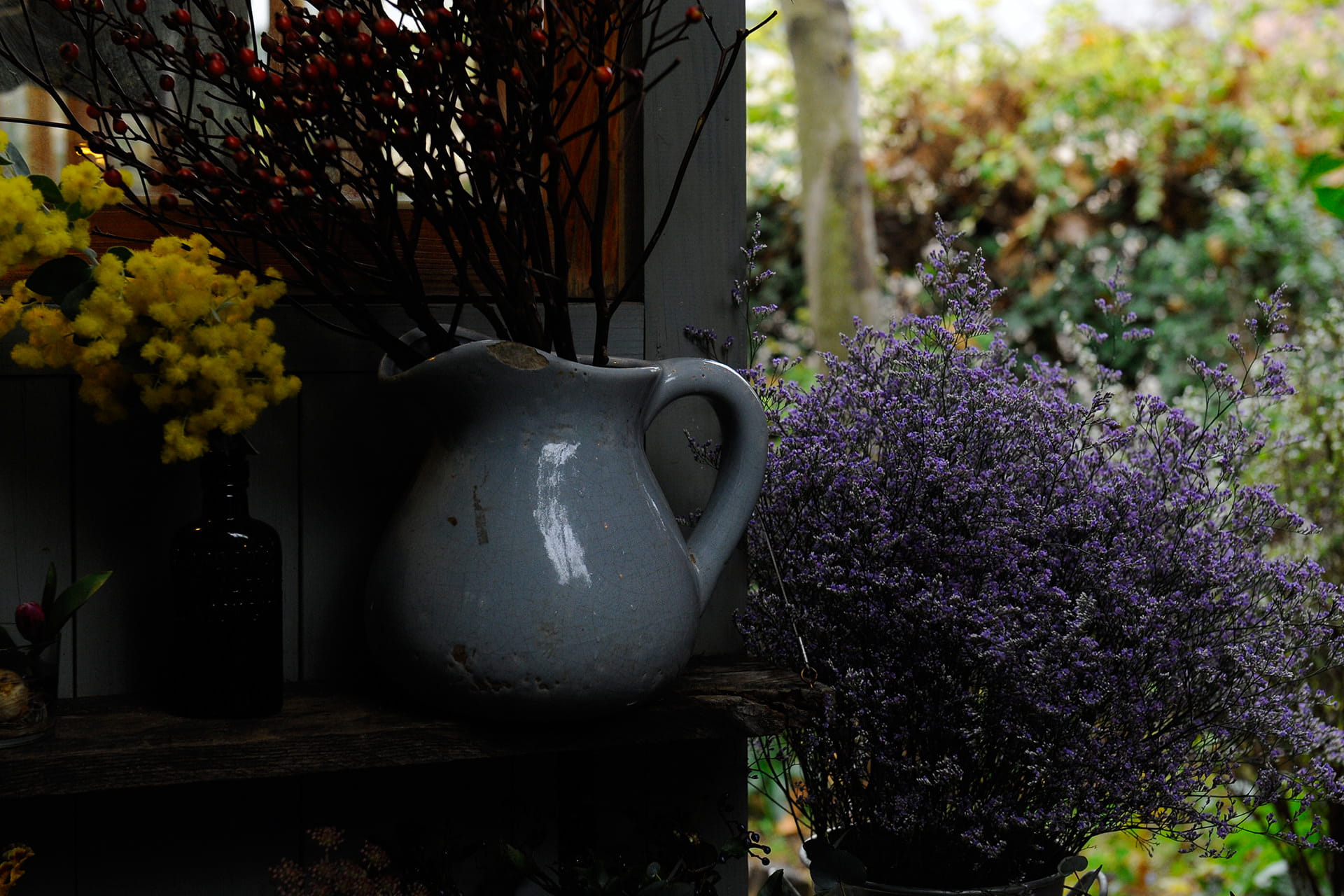 Adding Color to Valueless Things
TT : I personally find intriguing the imaging approach to 'add value to things with no value', for example an old rusty and broken nail. In other words, I want to create images which will change people's conventional value systems. Do you have any particular policy when you produce your work?
YI : I, also, want to make arrangements that will strike a cord with people's values, in the hope that the coloring of my flowers, to start with, provides a pleasant time in their everyday life. In fact, the styles of arrangements I personally like often tend to appeal more to a minority of people, and do not match the established values of the majority who have the idea that 'this is the way flower arrangements should be'. So I often lose confidence in myself. But I at least try to select colors which appeal to people as a new value. It is both enjoyable and difficult to find how to bring out the expressions of flowers.
TT : Yes, I agree. It is difficult to create variations in flowers, no matter how much you try. Because flowers are beautiful as they are, this may be a challenging condition for you.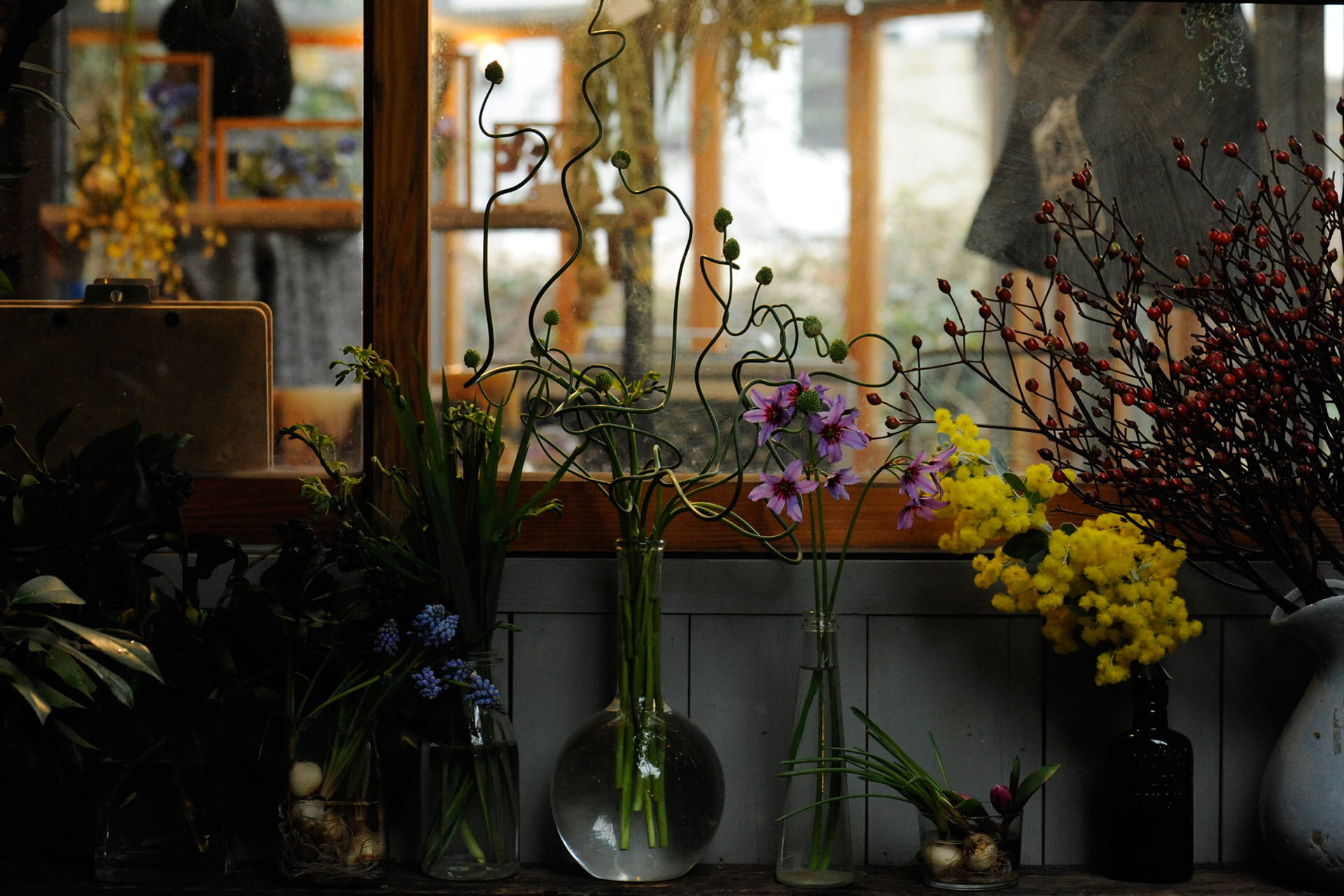 — What do you expect of the viewers' impression through your works in this exhibition?
YI : I want viewers to simply sense the various forms of 'beauty' filtered by my own liking, rather than viewing some egotistical work. In addition, if the work generates new values in viewers through the colors that they find pleasing, I will be delighted. For example, the image which inspires a person who has only dressed in white before to think 'maybe I will try such pale blue for a change', or the image which is so pleasant that you could watch it forever in the midst of bustling Ginza. Like the variety of shades found in color pencils, I hope that these images will be engraved in as many viewers' minds as possible, as those of a color palette typical of THE LITTLE SHOP OF FLOWERS.
TT : As for me, on the contrary, I can call it a success if I can draw out the inner ego of Ms Iki. Since I am the one producing images, not anybody else, it should not end up being just 'somewhat beautiful'. I want to create works which embody both surprise and discovery that will cause people to involuntarily stop in front of them.
[Date and Place] December 2015/THE LITTLE SHOP OF FLOWERS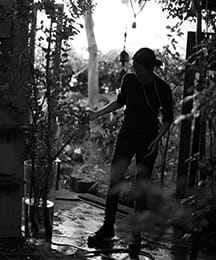 Yukari Iki
Owner, THE LITTLE SHOP OF FLOWERS/Flower Stylist
Since opening her shop following a period in interior decoration and fashion, Ms. Iki has been engaged in proposing free and flexible flower presentations that harmonize with our lifestyles and spaces, without being swayed by the shapes and conventional beauty of flowers.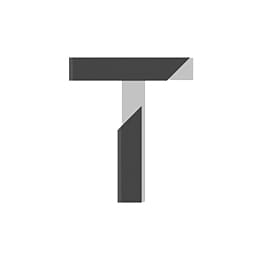 Takafumi Tsuchiya
Video Director & Art Director, TAKCOM
Greatly appreciated in various fields for his high-precision video art, Mr. Tsuchiya constantly pursues innovative expressions while presenting his works at art festivals and galleries in several countries.
Special Talk Sessions 3
Hanaya Nishibeppu Shoten × Haiiro Ookami × TOKYO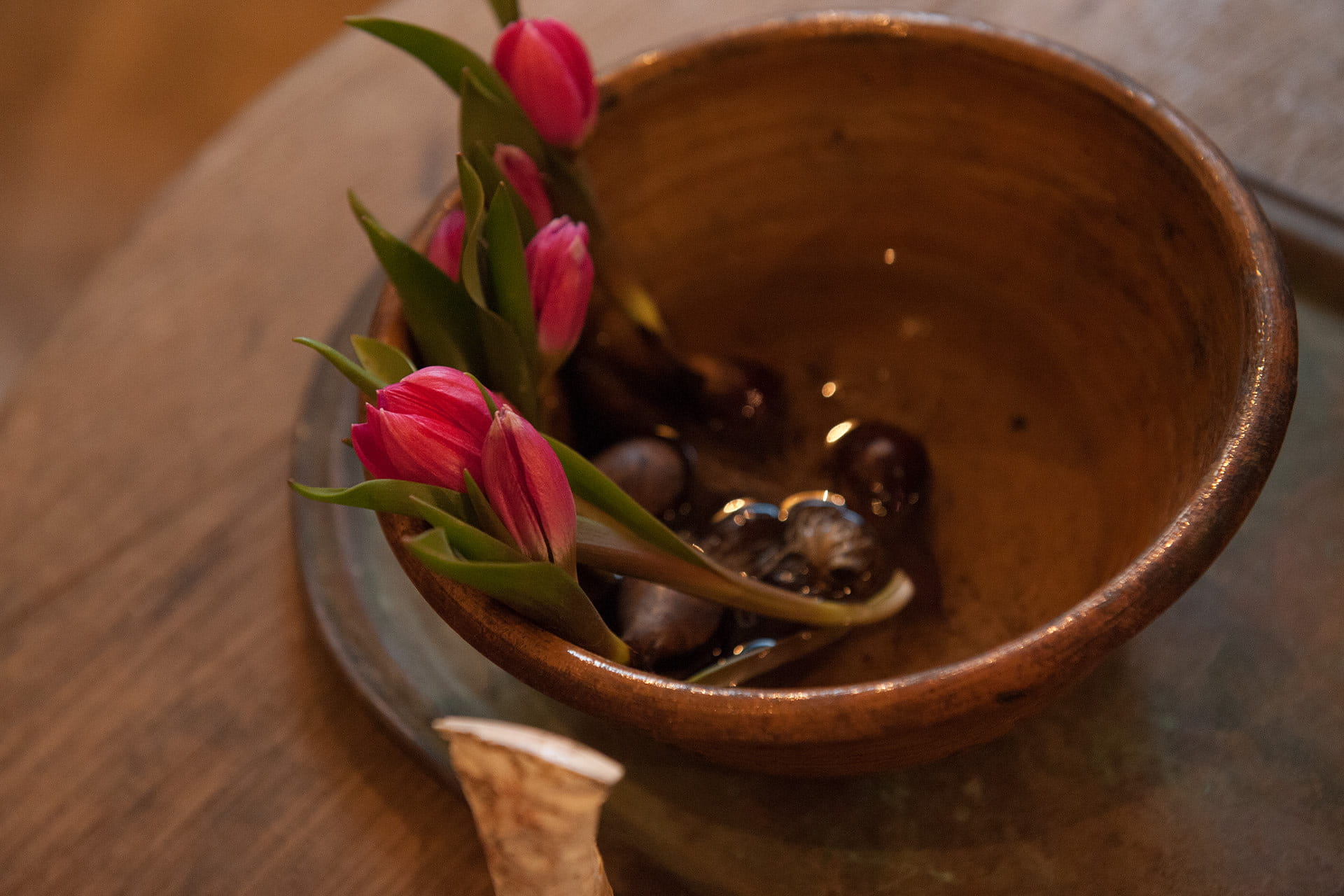 A Sensitive Space with Antiques Plus Flowers
Hisayuki Nishibeppu/Hanaya Nishibeppu shoten | HN : In order to create a space that nobody has ever thought of, Sato and I launched the unit, Haiiro Ookami + Florist Nishibeppu shoten, using antique and natural objects. I am a florist, but as I handle not only flowers, but also grasses, tree roots, mushrooms and soil, perhaps I am not a typical flower shop owner. When I purchase flowers, I select them instinctively based on whether I want to see them in this shop.
Katsuya Sato/Antique Dealer | KS : As we began with the purpose of creating a one and only space and atmosphere, it is difficult to find the right words to describe the shop. For example, let's say there were flowers displayed in a vase; I'd like a customer to feel like taking the entire surrounding ambience with them, rather than purchasing either a vase or flowers alone. I hope that the shop will be a place with such character.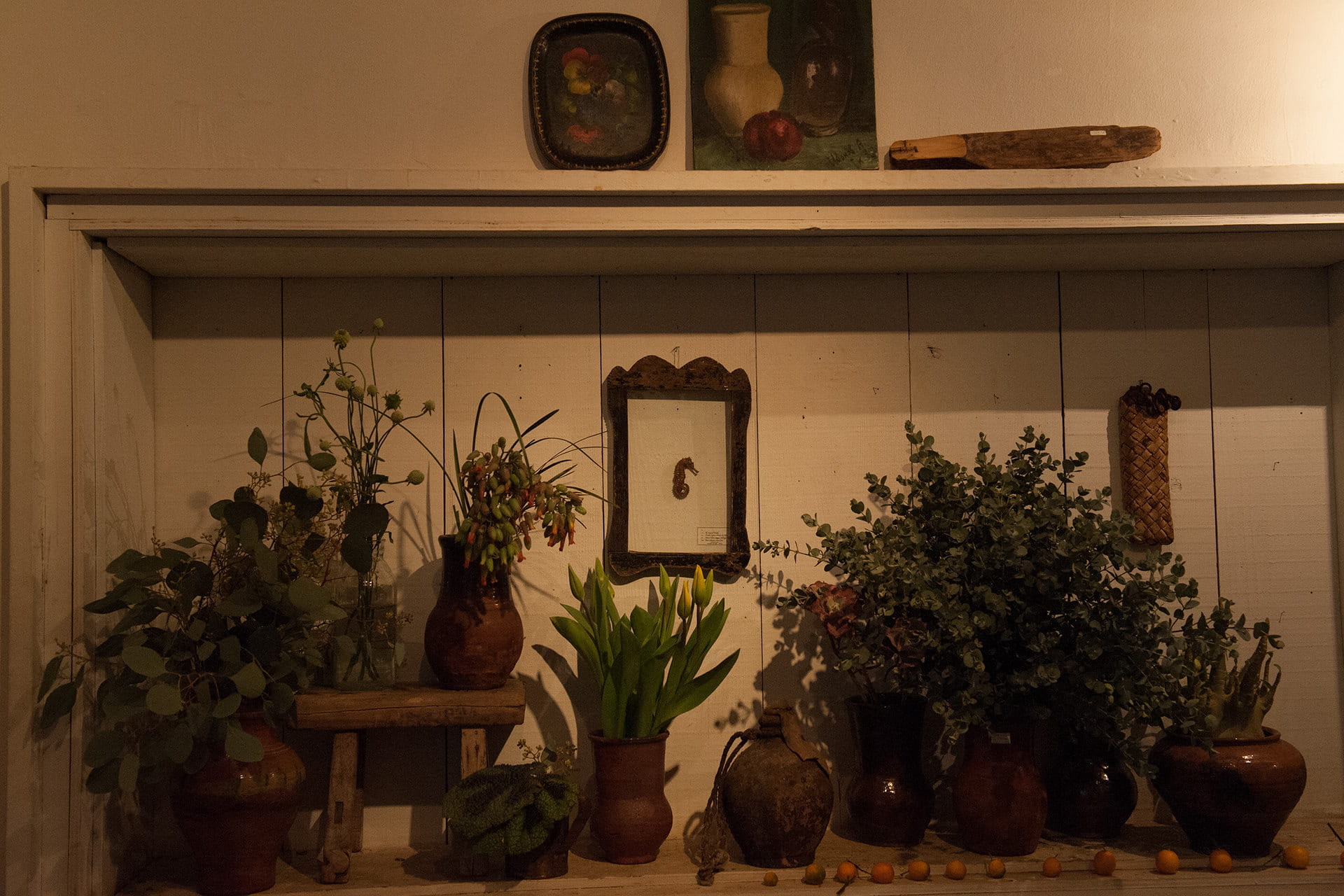 Eiji Tanigawa/TOKYO | ET : Ever since I visited here the first time, I have strongly felt that this is a one and only space. Unlike usual flower shops, it has a sense of aiming for a higher level. Objects displayed here for sale have something which makes us hesitate in a positive sense to buy them. A jar casually displayed for example, makes me wonder "if I buy this, the space will miss it" or "I may not be able to reproduce this ambience at home", and end up thinking that the jar is best left here in this shop.
KS : Quite a lot of customers feel that way, and some have even built a shelf specially to display an antique object and flowers they bought here just as they had been in the shop. As a matter of fact we intentionally select antiques and flowers that will likely stimulate customer's curiosity for nature and old things.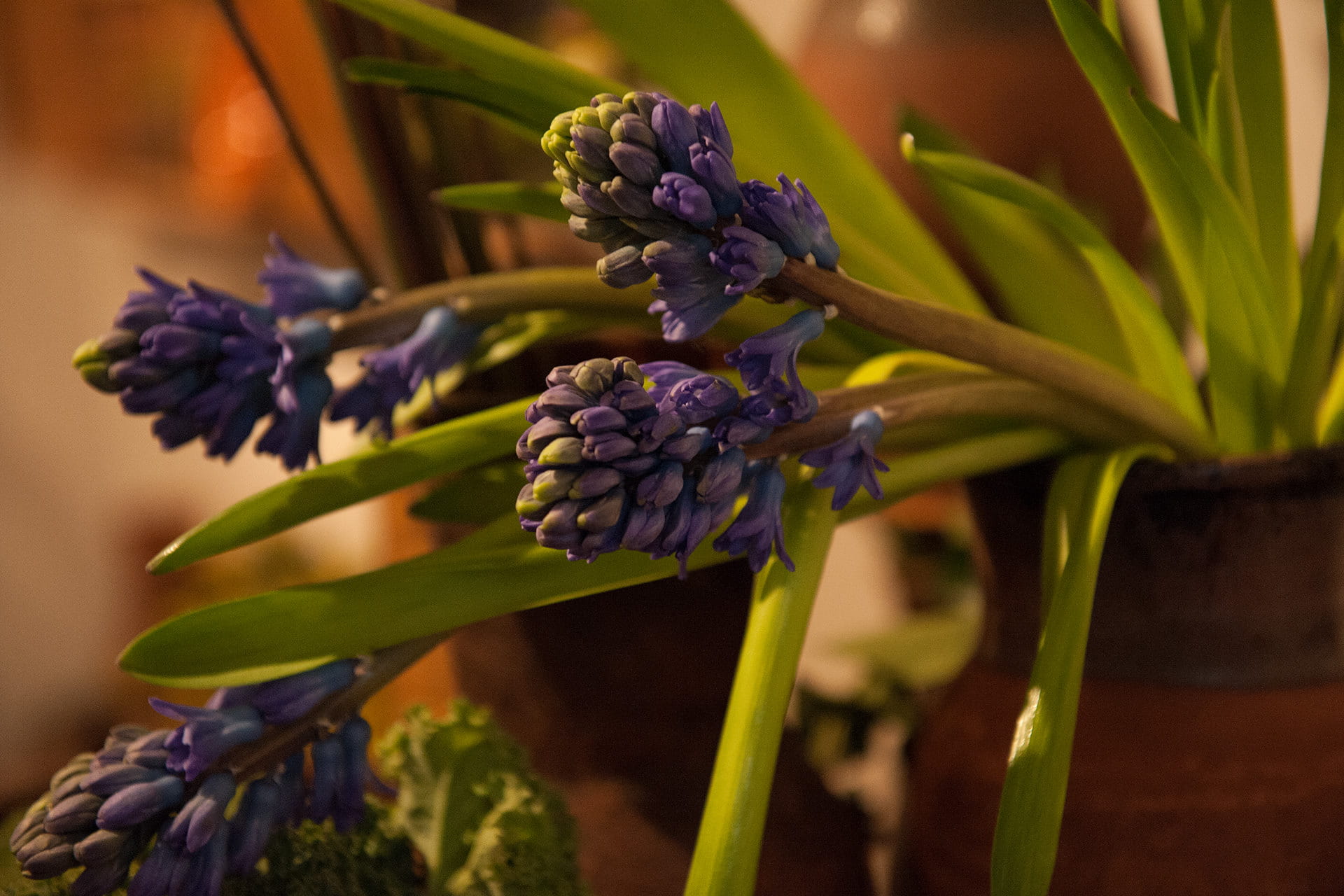 Portraying The Radiating Beauty of Space
KS : For example overseas, people go to galleries and purchase paintings or other art objects just like they select an item in any other shop. We hope that people here will also use our shop in such a way. As our merchandise also consists of one-of-a-kind items, when purchased, they seem to act as an interface between us and the customers who buy them.
ET : Such sense of being alive is an appealing point indeed. How well I can approximate such unique sense to the shop through the medium of film; that is one of my challenges with this collaboration.
KS : That is what we look forward to seeing. We often receive opportunities to have our work photographed, but it is difficult to achieve a well-composed balance. For example, flowers face in all directions, so what we do is focus on the most prominent one among them, but how about the rest? It is hard to achieve a satisfying shot for them. Well, the reason is that we produce our work to look perfect from every angle. In this sense we expect that, through moving images, it can be precisely reproduced with a precise expression.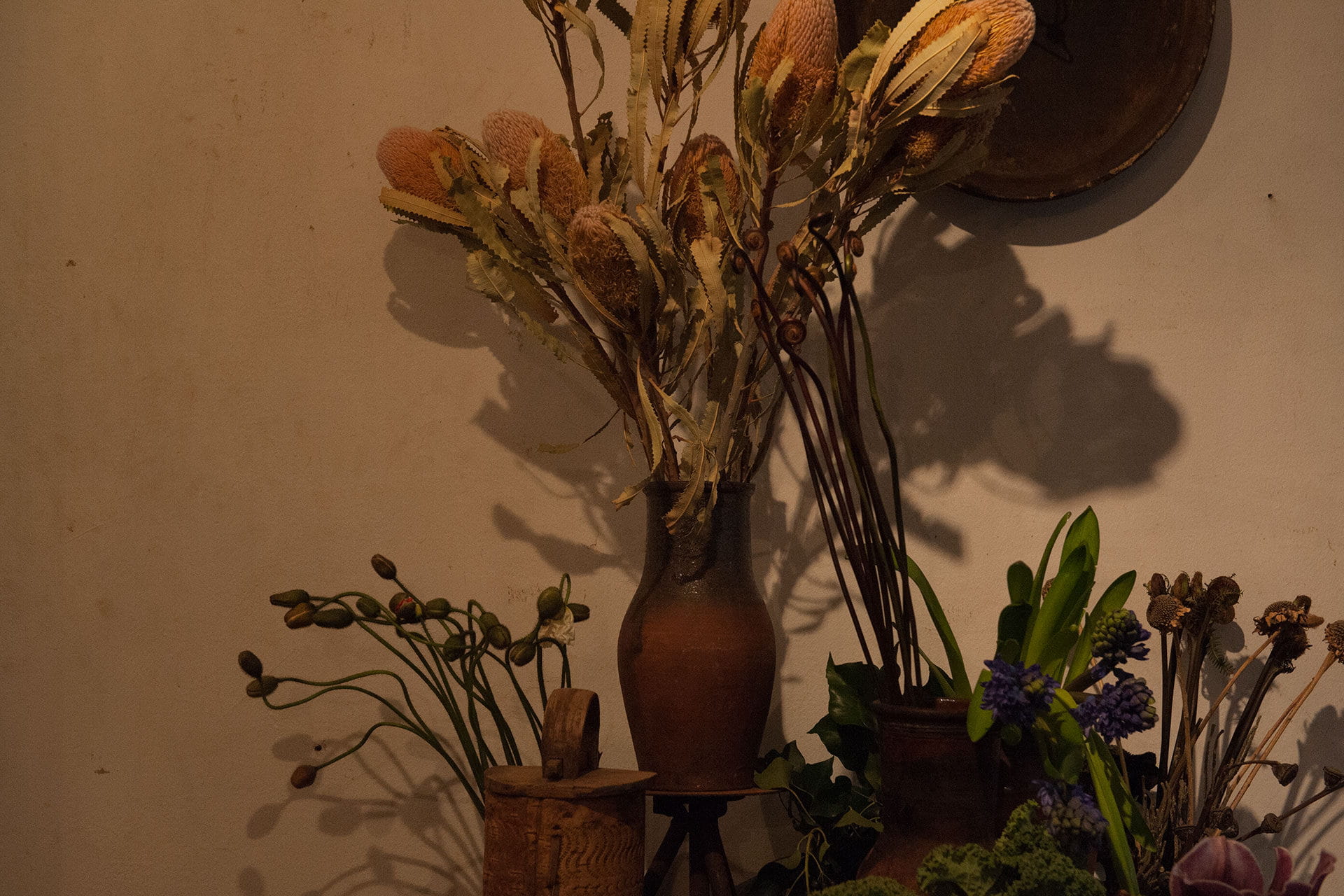 HN : I want to produce my work as if driven by some natural energy, rather than intentionally striving for perfection. When I exhibited my work for the first time here, I created a space by laying eucalyptus leaves on the entire floor, so that the scent rose as visitors stepped on them. As I always contemplate trying something which stimulates and appeals to our five senses, it would be great if we can reflect such elements in the images.
ET : It is evident that glamorous or flamboyant elements are eliminated from both of your world views, or rather, that you present the message that being alive itself is beautiful. I strongly feel in your work, a certain egotistical, non-flattery-seeking will, despite it not being prettified. I find this very appealing. I therefore hope to depict them as poetic images by understanding the style of your work in depth. It is my role for this project to bring out new and attractive elements in such a way that reveals the background and time in which flowers have been cultivated, for example an image which shows the underlying strength of your work.
[Date and Place] January 2016/Hanaya Nishibeppu shoten + Haiiro Ookami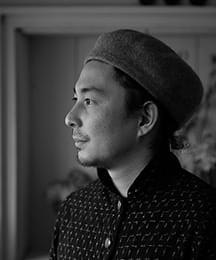 Hisayuki Nishibeppu
Florist/Owner, Hanaya Nishibeppu shoten
Initiated by an exhibition of his work at Haiiro Ookami, Mr. Nishibeppu began sharing space with Mr. Sato. He expresses a world perspective through his unique simulations, using elements such as tree roots, mushrooms and pieces of old trees. He also holds one-man exhibitions.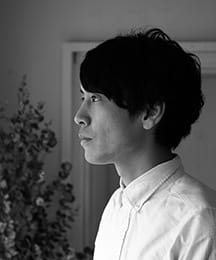 Katsuya Sato
Owner, Antique Shop Haiiro Ookami/Antique Dealer/Architect
The name of the shop; Haiiro Ookami (meaning gray wolf) derives from a Russian folktale, "Tsarevitch Ivan, the Firebird and the Gray Wolf". Mr. Sato trades in antique objects rooted in the everyday lives of Russians and Japanese, and is also engaged in the design of houses and interiors.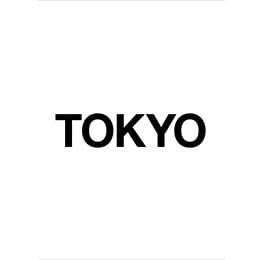 Eiji Tanigawa
Film Director, TOKYO
Since co-establishing TOKYO in 2013, Mr. Tanigawa has enjoyed worldwide recognition for his planning and production, employing new methods such as programming in addition to conventional film techniques.