1F | METoA 1
Connect & Flow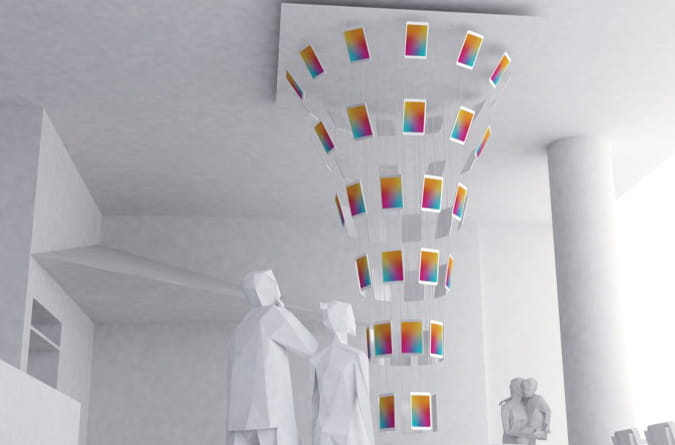 An object using this indispensable tablet as a communications tool welcomes visitors. When approached,the object's monitor and voice will greet the visitor in a manner matching the time of day and weather. Other features include images changing and various reactions based on movements made by the visitors.
1F | METoA 1 Connect & Flow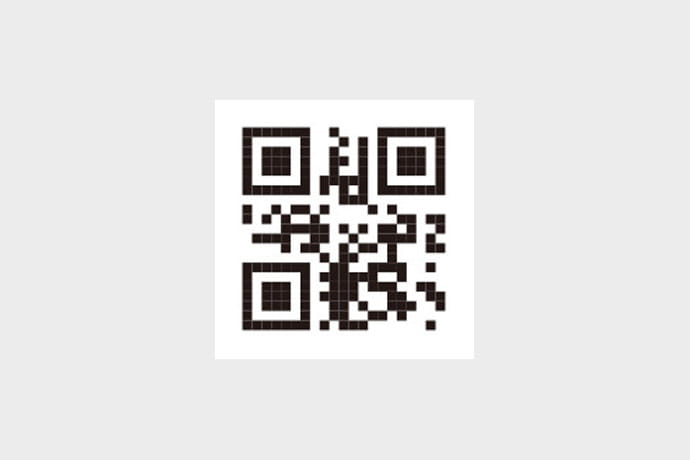 "Connect & Flow"- Experience a Special Reception
"Connect & Flow" is the exhibit welcoming visitors to the first floor of METoA 1F. We have prepared a special message that only visitors to this website will be greeted with. Simply download this 2D code and hold it over the reader located next to the exhibit.
1F | METoA 1 Connect & Flow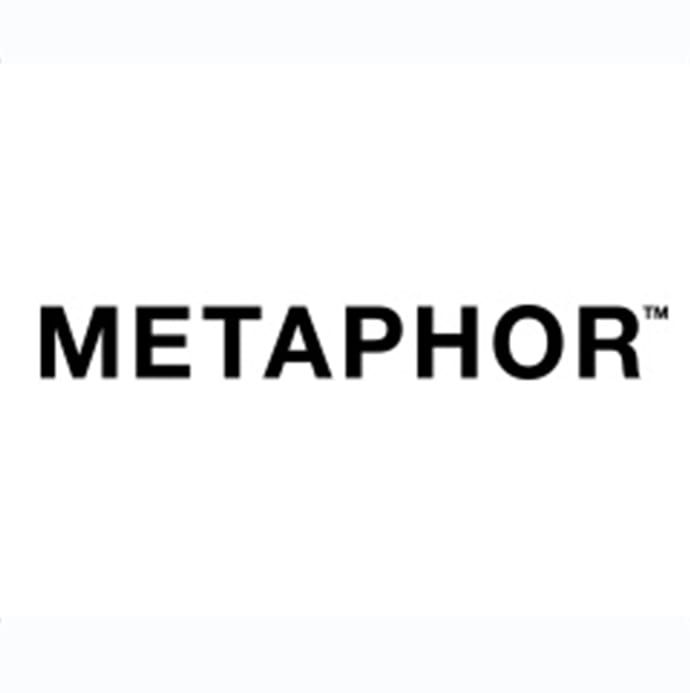 METAPHOR Inc.
Established in 2007, this design engineering team is made up of a director, designer and programmer. With a focus on website creation, the company also does production of smartphone apps, digital signage, motion graphics, films, graphics, installations, etc.
METoA Cafe & Kitchen"Feel the Communication in Ginza" We currently offer a "limited time only" elderflower cordial sherbet addition to our menu.
2F | METoA 2
METoA VISION「Into the future」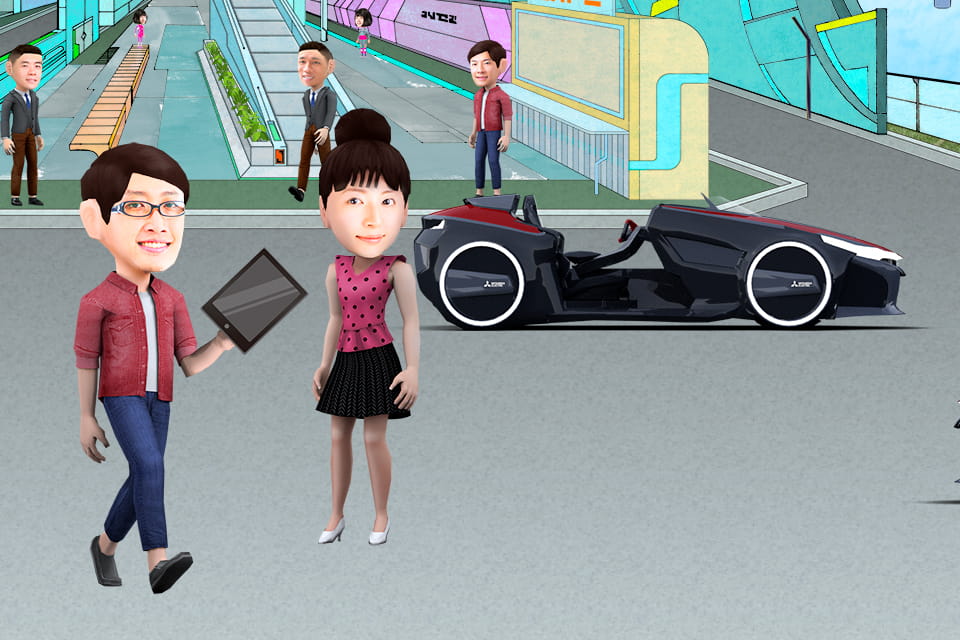 Enter the future, spread out on an enormous 64-panel multi-screen display! METoA Vision presents special content where visitor can participate as avatars. You can experience the wonder of communications in this futuristic world.
2F | METoA 2 METoA VISION 「Into the future」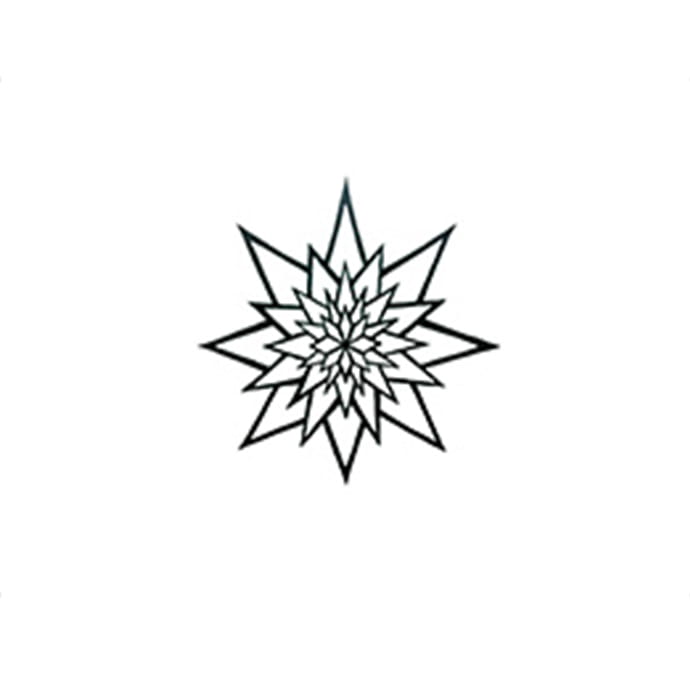 Planning & General Production Noizdavi
The leader of Rinpa-Eshidan,*Noizdavi created a video that was published on YouTube in 2006. The video was an explosive hit, going viral and attracting much attention in the art world. Since then he has spent much time producing many corporate advertisements and artworks, from planning to production.
* An art creators group based in Tokyo that produces many motion paintings and commercial videos.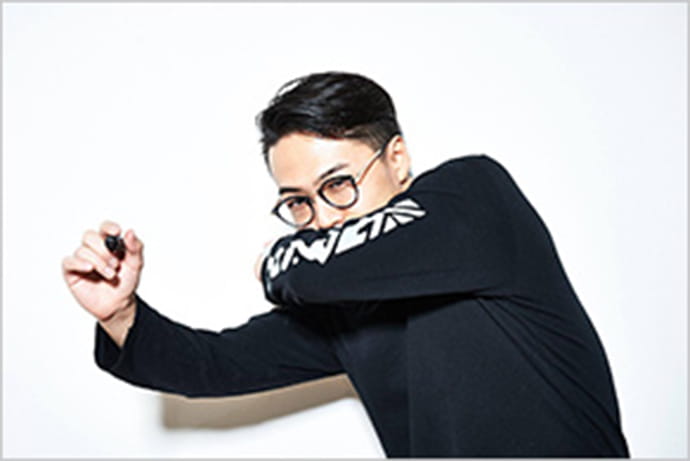 Illustration Yusei Sagawa
Yusei Sagawa plays an active role as a painting artist specialized in "live painting" that emphasizes free-style form. He is also a member of the Rinpa-Eshidan art group, and is involved in art direction and design including advertisements.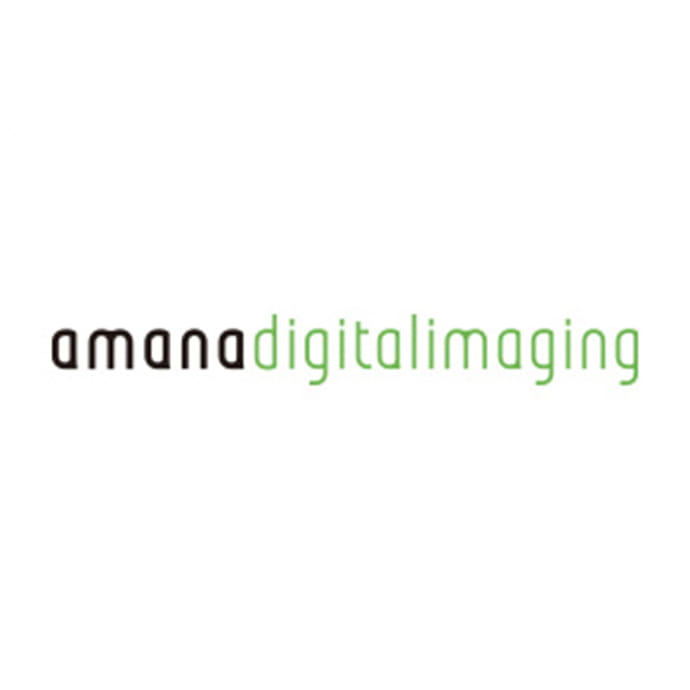 CG/Programs amana digital imaging
This creative group produces visual communications that appeal to the five senses through a variety of expressive methods using the latest digital technologies. Its outstanding technical capability to create high-quality visual expression is greatly admired by many.
Animated Writing Guidance System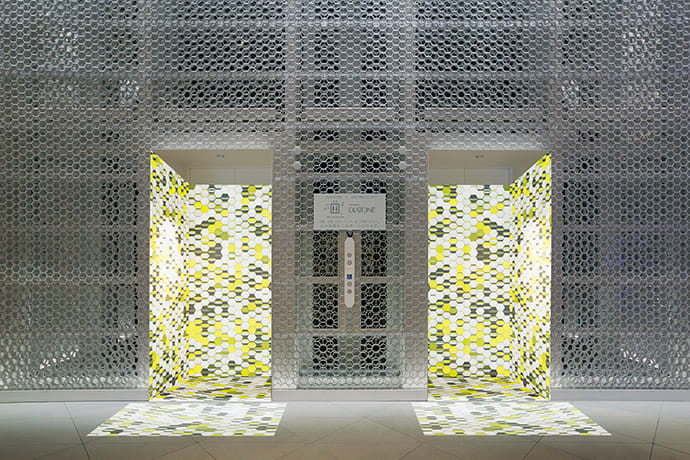 This system enables the building to communicate with visitors, guiding them throughout the building. Utilizing the Illumination for Building Guidance System linked to elevator operation, the system displays the operation status and elevator destinations on the floor and elevator doors.
3F | METoA 3
User Interface for Voice-activated Drawing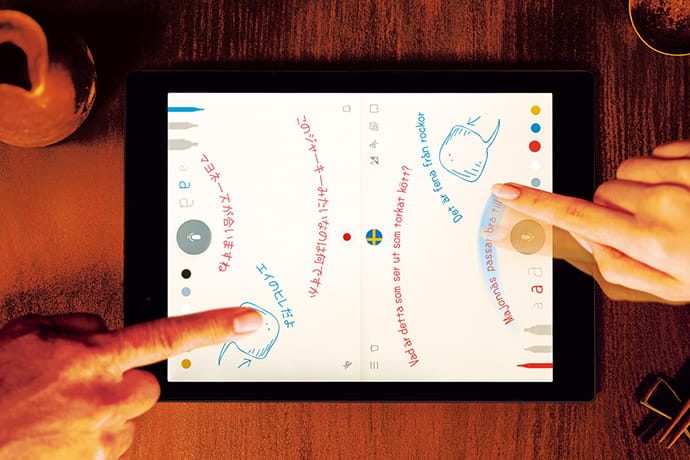 Experience a new form of communication where words spoken into the tablet or smartphone are displayed by tracing a finger across the tablet screen. Visitors are allowed to use the devices freely and experience the possibilities of future communication first-hand.
EMIRAI3 xDAS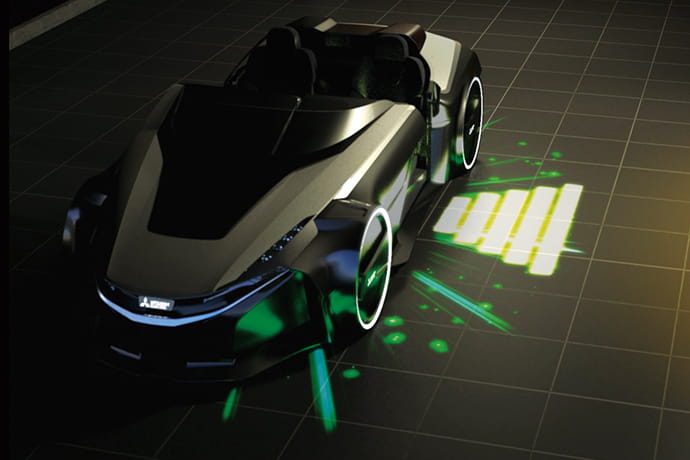 xDas is a concept car equipped with next generation drive-assist technologies. Among the features.The Road-illustrating Directional Indicators system is used to communicate with people and other vehicles in the peripheral area, bringing situations to their attention, promoting more considerate drivers, and creating a driving environment that makes everyone feel safe. Personally experience both, how the Road-illustrating Directional Indicators work and virtual driving simulation, at METoA Ginza.
Come and experience the safe and comfortable future of automobile transportation.
Automatic driving skills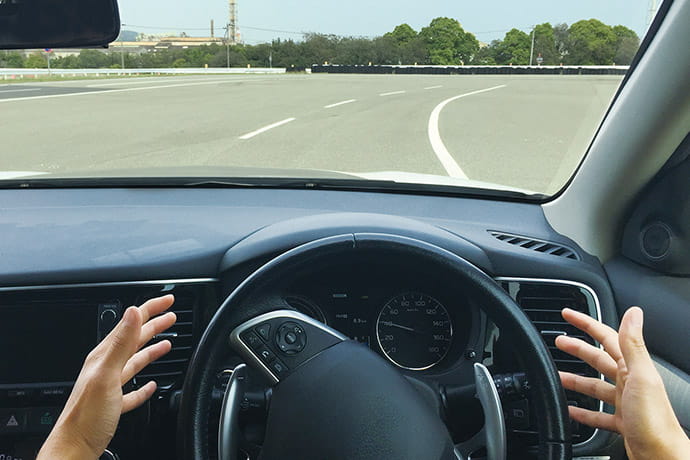 Visitors can experience Mitsubishi Electric's autonomous driving technologies via a virtual automated driving experience and our interactive SAFE CAR CONNECTION.
We aim to realize safe and secure autonomous driving via vehicles that communicate with both people and other vehicles in their vicinity by utilizing satellites flying overhead.
3F | METoA 3 SAFE CAR CONNECTION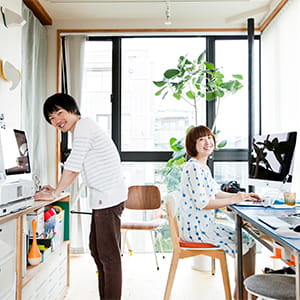 LENS
Formed in 2014 by interaction artist Kenichi Okada and space designer Kunie Hiyamizu. The creative lab studies senses, such as the "sensation of touch" and "fun," and express them through a wide variety of media.
Aerial Display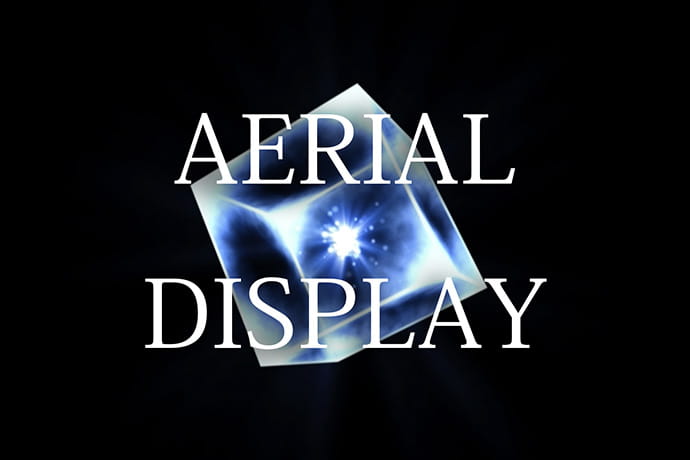 Realistic sensations never before experienced delivered through aerial images. An image appears in mid-air and directs to the booth. When you stand in front of the camera in the booth, you will appear in mid-air,floating in front of the people outside of the booth.