Smooth Access City
Come with Us to a Futuristic City
Exhibition Dates : March 06, 2018 (Tue.) to June 28, 2018 (Thu.)
Open : 11:00 – 21:00
Admission : Free
This event has ended.
Let us take you to a barrier-free city that is easily accessible to everyone. In this event, titled "Smooth Access City", our vision of a futuristic city is presented utilizing experience-based imagery and various exhibitions. All operations are smooth and seamless in this city, from transportation to guidance and communications. We hope you'll enjoy this unique experience in a futuristic city created using Mitsubishi Electric technologies.
1F | METoA 1
Neon Welcome Map – Smooth Access City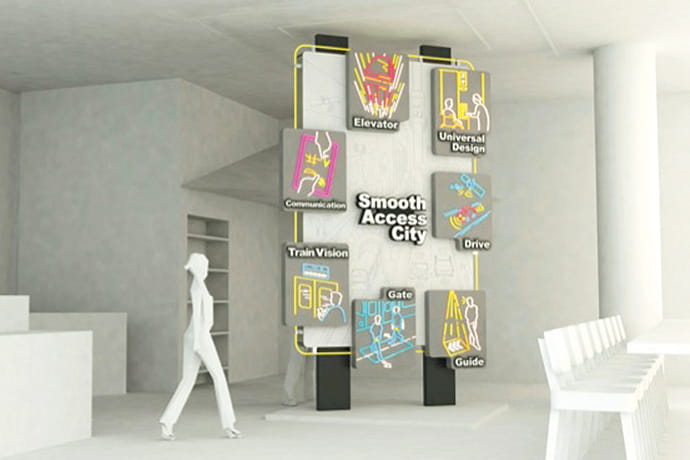 Various Mitsubishi Electric technologies and products that help to ensure a comfortable urban lifestyle have been transformed into bright neon signs as part of a glamorous urban setting. Linked with large-scale graphics that depict the city landscape, presented are the main attractions of the exhibits prepared for your enjoyment – an ideal introduction to the future of cities where all operations are smooth and seamless.
Production:N and R Foldings Japan Co., Ltd.
2F | METoA 2 METoA VISION
Smooth Access Innovation
Solving issues and creating an urban space where everything operates smoothly!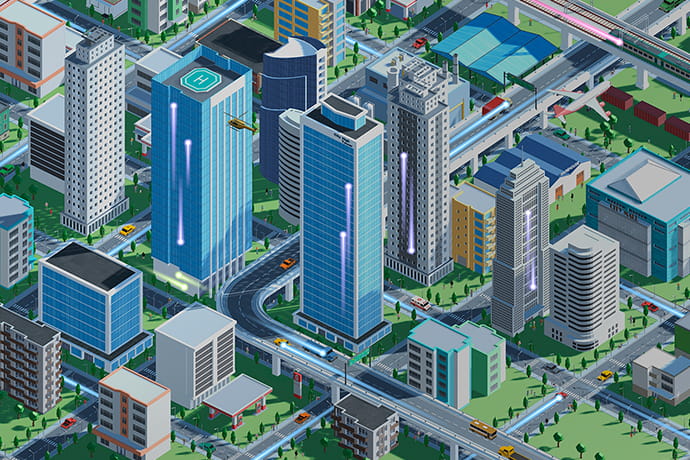 Let's build the ideal city using Diorama and imagery!
To provide a seamless urban infrastructure that even ensures the comfort of people who are only visiting, Mitsubishi Electric creates products that contribute to smooth urban transportation, such as high-speed elevators, Train Vision, and autonomous driving technologies. For this event, using METoA VISION, we give you the opportunity to experience mission solutions through Diorama VISION and a powerful 64-screen display. This is your chance to make a difference and grease the wheels so that the city runs smoothly. We hope you will complete the task of building a city that is easily accessible to all in their daily lives.
3F | METoA 3
Comfortable Transportation in the City – Autonomous Driving Technologies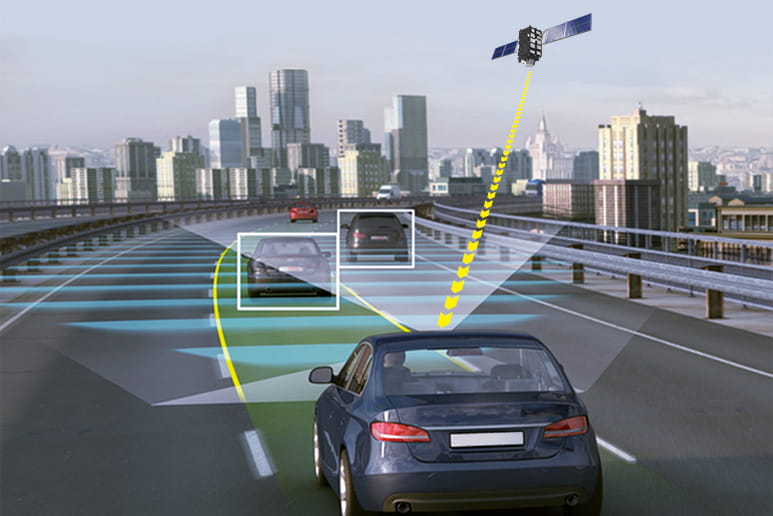 Let's take a look at the future, where autonomous driving makes transportation smoother.
Come with us to a safer, more secure future of autonomous driving. Mitsubishi Electric is working on to support safer travel through technologies, such as a sensor camera and satellite for avoiding any obstacles, and grasping the certain vehicles locations on the roads. At METoA Ginza, original autonomous driving technologies are graphically depicted on the walls. For example, the streetscape flows by in tune with vehicle movement as a starry sky emerges. You can easily enjoy learning how the future of transportation will be transformed by autonomous driving.
3F | METoA 3
Easy Entry and Exit at Stations – Barrier-free Fare Collection
Let's experience an automated barrier-free ticket gate.
To provide stress-free transportation for all, Mitsubishi Electric has developed a barrier-free fare collection system. This automated ticket gate system eliminates the use of ticket gates, and the company is working towards practical use of the system at railway stations, airports and offices. As it is completely free of protruding objects and requires no swiping of IC cards, people in wheelchairs and those pushing baby strollers can also enter or leave the ticket gate smoothly. LED signs clearly indicate the direction of traffic. We hope you will enjoy your experience in a futuristic railway station presented at METoA Ginza.
3F | METoA 3
Multilingual Confirmation of Train Schedule and Operations – Train Vision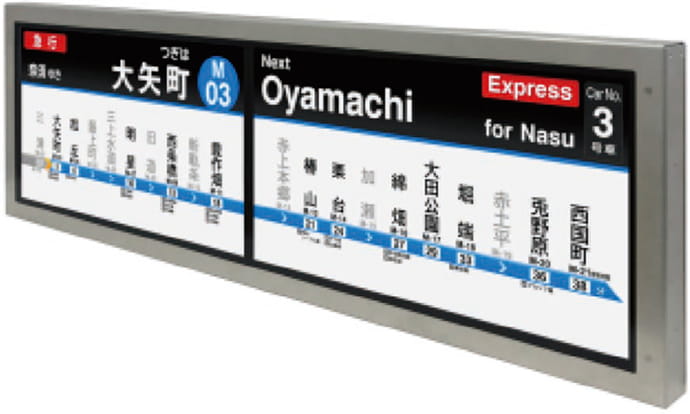 "Train Vision" is an on-board information display system. It's one of the original products in the range of Mitsubishi Electric digital signage developments, and for which the company boasts the largest share * of the Japanese market. A tool proven to provide greater comfort for travelers, it has now been further evolved to deliver information into your hands. The system is capable of displaying various information in multiple languages—including train route guides and operations—on tablets and smartphones. It thus enables overseas visitors with no knowledge of Japanese language to use the Japanese railway network more comfortably. At METoA Ginza, a railway carriage is recreated on the walls, allowing visitors to experience smooth access using a smartphone.
*As of March 2018.(Mitsubishi Electric data)
3F | METoA 3
Communications with Growing Potential – User Interface for Voice-activated Drawing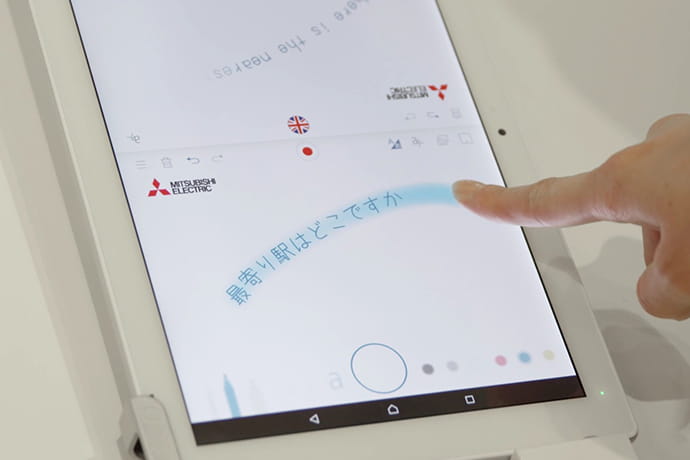 Converse smoothly with a diverse range of people using words that appear at your fingertip. 。
"User Interface for Voice-activated Drawing" is a new communication tool that enables users to display their spoken words on a tablet or smartphone by simply dragging their finger across the screen. Using the combination of a hand-held tablet and a monitor on the wall, visitors can experience simulated conversation with a non-Japanese speaker. This is a rare opportunity to easily overcome the language barrier. We hope you will appreciate this change to see the potential of future communications.
3F | METoA 3
Get Around Smoothly in Facilities – Illumination for Building Guidance Systems
Be guided to your destination by light-based animations.
Mitsubishi Electric's "Illumination for Building Guidance Systems" comfortably escort users to their destinations, including elevators, toilets, and event venues. For elevators, the system encourages smooth boarding processes for passengers and persuades them to give the right-of-way. Pleasant images help minimize visitor frustration while waiting for the elevator as well. The system contributes to visitors' moving around in facilities in an agreeable way. In addition, guiding signs displayed on the floor facilitate smooth traffic flow within the facilities. At METoA Ginza, interactive imagery offers the unique experience of being guided by animations created using guiding signs projected on the floors.
3F | METoA 3
User-friendly Operations for All – Universal Design for Elevators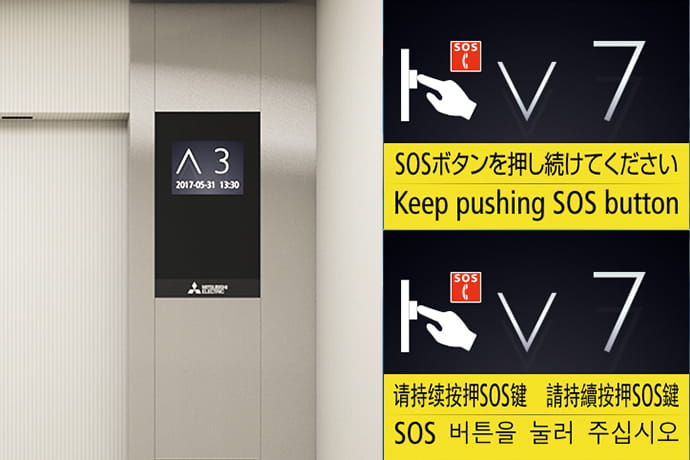 Easy to see. Easy to press. Smooth operation for everybody.
Elevators are used on a daily basis by various people as a vital means of transportation. Mitsubishi Electric incorporates the concept of universal design (UD) for operability of its products, with the aim of ensuring that everybody can use them comfortably. For example, our touch-based elevator operation panel in elevator halls is user-friendly for people with visual impairments. Destination floors are signaled via voice-based announcements following touch-panel operation. Our voice alert system in four languages informs overseas visitors at the time of disaster. Demand for such systems is expected to grow towards 2020. In addition, Mitsubishi Electric elevator car operation panels are designed so that everybody can see and press buttons easily. At METoA Ginza, the functions are replicated on the walls so that you can experience them first hand. There are also some exhibit accessories available (e.g., eye masks) that you can use to experience simulations from the perspective of a person with a disability, such as blind touch-panel operation. Please take this opportunity to experience this user-friendly interface for all.
3F | METoA 3
Ensuring Smooth Travel within Skyscrapers – High-speed Elevators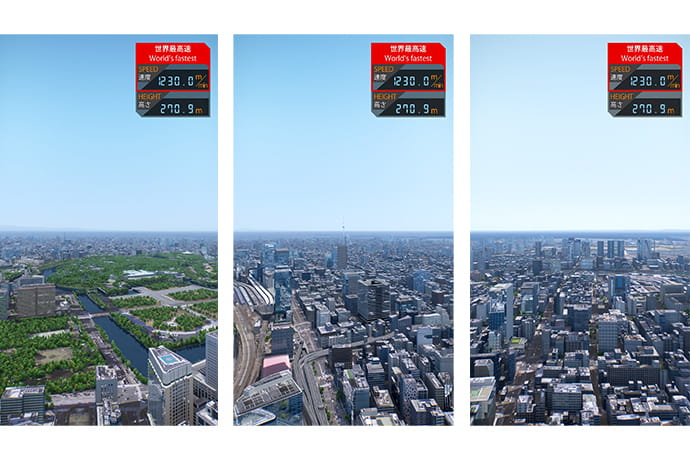 A virtual experience of traveling at 1,230m/m and the panoramic view.
Inside the Shanghai Tower, China's tallest building, Mitsubishi Electric's high-speed elevator is transporting passengers on a daily basis. The world's fastest elevator* travels at an amazing speed of 1,230m per minute. At METoA Ginza, you can experience this high-speed elevator and the panoramic view of Ginza from it via a large-scale monitor. We hope you will enjoy the experience of ascending through a skyscraper at high speed.
* All elevators operational as of March 2018. (Mitsubishi Electric data)
Cooperation for and production of City Project 3D data:
CAD Center Corporation
3F | METoA 3
Projection Mapping of "Smooth Access City"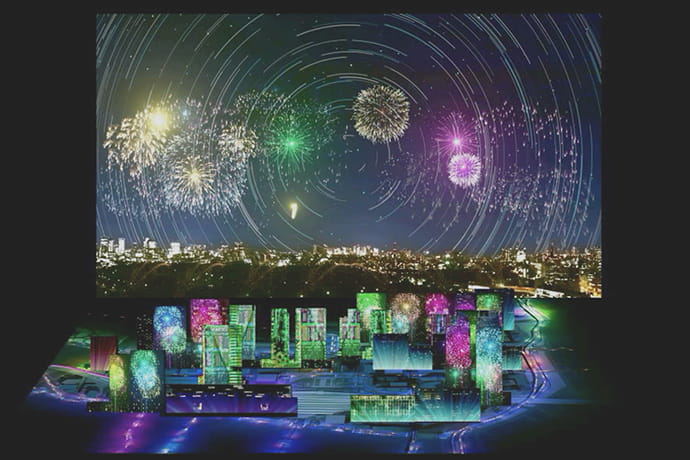 Smooth Transportation Community Presented Using Projection Mapping of an urban landscape.
The symbolic exhibit of this event features a barrier-free and accessible urban landscape. Projection mapping vividly highlights the autonomous driving of automobiles and various forms of transportation, including a high-speed elevator. We hope you will enjoy your experience in "Smooth Access City", a city easily accessible to everyone.
3F | METoA 3
Initiatives towards a Harmonious Society
For 2020 and beyond…
Setting its sights on 2020 and beyond, Mitsubishi Electric is working together with its customers to realize a truly global society through its business activities. Through applying universal design, we will create greater "fun and comfort" beyond security and user-friendliness in the daily lives of everyone; doing so for everyone, with or without disabilities.
The beyond2020 program is an initiative introduced by the Japanese government to convey the charm of Japanese culture through cultural activities and businesses that promote diversity and globalism. Mitsubishi Electric is a supporter of the initiative.
This event is certified by the "beyond2020" program. (Certification number:a001001212)
about The beyond2020 program
1F | METoA 1
METoA Cafe & Kitchen
(former Me's CAFE & KITCHEN)
Urban sweets that leave no guilty conscience if eaten between meals, even if you eat them all.
This dessert entrée, available for a limited time only, was created applying the concept of "barrier-free" eating. These bliss bars can be eaten without worry by young children, vegetarians and people on a diet. They are currently attracting attention because they contain no gluten or sugar. METoA Cafe & Kitchen offers bliss bars with spring colors added, created using only natural ingredients. The dessert plates are decorated with three beautifully colored bars: coconut, raspberry, and Matcha (powdered green tea). In addition, the flow lines drawn on the plate using coconut cream express the theme of the event, "Smooth Access City". More importantly, these bliss bars have a mild taste that makes the most of the natural ingredients and provides a sense of satisfaction. If you eat them between meals, even if you eat them all, there's no reason to feel guilty. Their heavenly taste will bring pleasure to mind and body.
【Limited to 10 servings per day】Cityscape Bliss Bars ¥680 (tax not included)
1F | METoA 1
Shop
You can find a range of original goods featuring the METoA Ginza logo and logo colors. The simple but stylish merchandise includes tote bags, towels, mugs, stationery and other goods available only here. Not only will they commemorate your visit, many of the items are those that you can use every day. Please drop by the METoA Ginza Shop during your next visit.